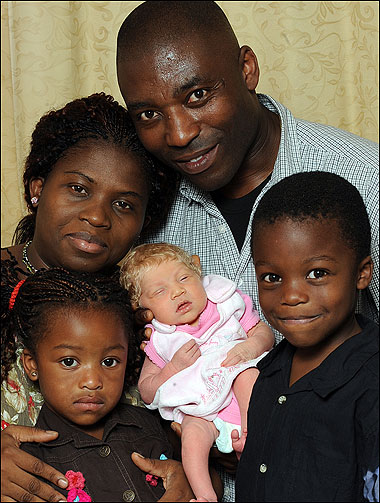 A Nigerian Igbo couple from the Eastern segment of that country, living in England has given birth to a white, blue-eyed blonde baby.
Baby Nmachi Ihegboro has amazed genetics experts who say the little girl is "not an albino…"
Dad Ben, 44, a customer services adviser,and Mum Angela, 35, of Woolwich, South London, were surprised beyond words at the apparently genetic flip they have created. "We both just sat there after the birth staring at her for ages – not saying anything." The father narrated.
Mum calls baby a gift. She said: "She's beautiful – a miracle baby." The baby's older brothers and sisters are all normal black African children.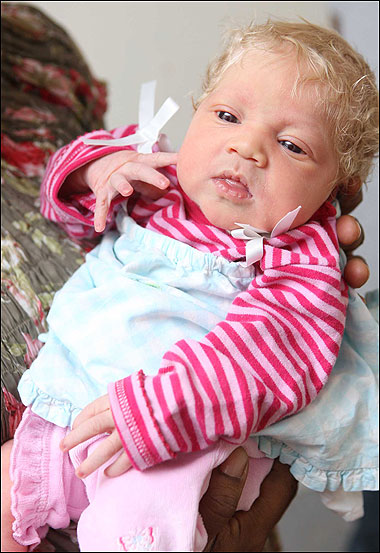 Rasta Livewire has yet to confirm whether this incident is for real or a mistake that apparently occurred in the maternity section.
Blue-eyed blonde Nmachi, whose name means "Beauty of God" in the Nigerian couple's homeland, has baffled genetics experts because neither Ben nor wife Angela have ANY mixed-race family history.
Pale genes skipping generations before cropping up again could have explained the baby's appearance, just that the family has no mixed race antecedents.
Genetics tests will need be run on the child to confirm relatedness to both sides of the family. However, the new dad is very trusting of his wife's fidelity. "My wife is true to me. Even if she hadn't been, the baby still wouldn't look like that.
Doctors at Queen Mary's Hospital in Sidcup – where Angela, from nearby Woolwich, gave birth – have told the parents Nmachi is definitely no albino. Further testing will need to be done before a definitive assessment can be made.
Professor Bryan Sykes, head of Human Genetics at Oxford University and Britain's leading expert, yesterday called the birth "extraordinary".
See: http://www.thesun.co.uk/sol/homepage/news/3060907/Black-parents-give-birth-to-white-baby.html#ixzz0uBfice6o