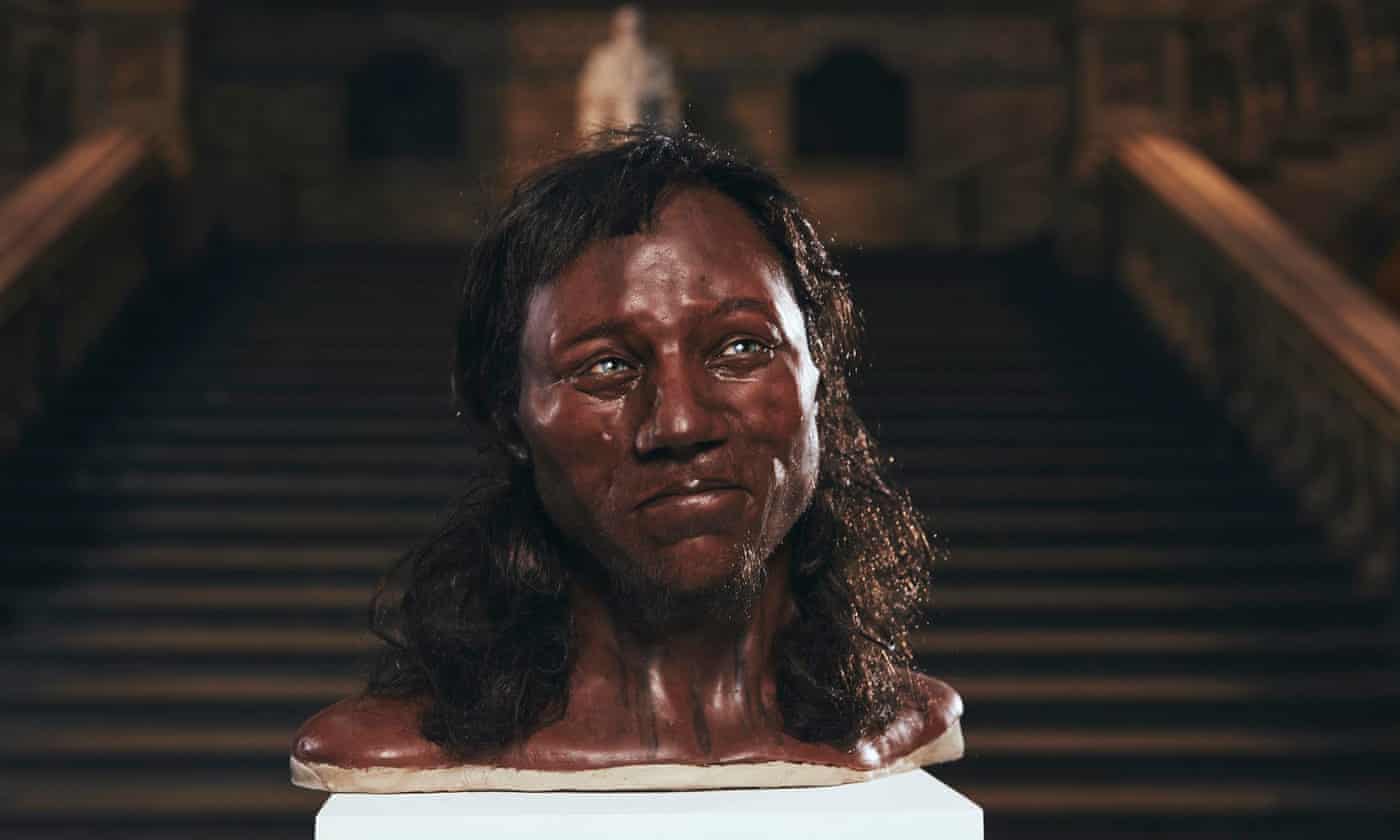 Cheddar Man is a human male fossil found in Gough's Cave in Cheddar Gorge, Somerset, England. The skeletal remains date to the Mesolithic (ca. 9100 BP) and it appears that he died a violent death. A large crater-like lesion just above the skull's right orbit suggests that the man may have also been suffering from a bone infection.
Excavated in 1903 in Gough's Cave in Somerset, Cheddar Man is Britain's oldest complete human skeleton. The remains are kept by the Natural History Museum in London in the new Human Evolution gallery.[1]
Intense speculation has built up around Cheddar Man's origins and appearance because he lived shortly after the first settlers crossed from continental Europe to Britain at the end of the last ice age.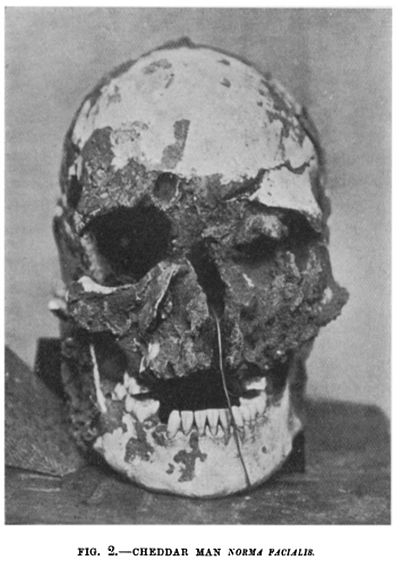 It was initially assumed that Cheddar Man had pale skin and fair hair, but his DNA paints a different picture, strongly suggesting he had blue eyes, a very dark brown to black complexion and dark curly hair.
The discovery shows that the genes for lighter skin became widespread in European populations far later than originally thought – and that skin colour was not always a proxy for geographic origin in the way it is often seen to be
Analysis of his nuclear DNA indicates that he was a typical member of the western European population at the time, probably with lactose intolerance, dark skin, blue eyes, and dark curly or wavy hair.[2]
Nuclear DNA sequence data
Nuclear DNA was extracted from the petrous part of the temporal bone by a team from the Natural History Museum in 2018.[3] The genetic markers suggested (based on their associations in modern populations whose phenotypes are known) that he probably had blue eyes, lactose intolerance, dark curly or wavy hair, and, less certainly,[3][4] dark to very dark skin.[2][5] These features are typical of the European population of the time, now known as West European Hunter-Gatherers. This population forms about 10%, on average, of the ancestry of Britons without a recent family history of immigration.[2]
The mitochondrial DNA of Cheddar Man was of haplogroup U5b1.[2] Some 65% of western European Mesolithic hunter-gatherers had haplogroup U5; today it is widely distributed, at lower frequencies, across western Eurasia and northern Africa. In 1996, Bryan Sykes of the University of Oxford first sequenced the mitochondrial DNA from one of Cheddar Man's molars.[7][8][9]
There was no genetic link with the other skeletons from Gough's Cave, which are 5,000 years older than Cheddar Man. For much of this intervening period, the last glaciation of Europe had made the area unsuitable for human life.
Genetic change in Britain since the Mesolithic:
Britain was periodically settled and then cleared during ice ages until the end of the last glacial period about 11,700 years ago, since when it has been continuously inhabited.
Until now, though, it hasn't been clear whether each wave of migrants was seeded from the same population in mainland Europe; the latest results suggest this was not the case.
The team homed in on genes known to be linked to skin colour, hair colour and texture, and eye colour. For skin tone, there are a handful of genetic variants linked to reduced pigmentation, including some that are very widespread in European populations today. However, Cheddar Man had "ancestral" versions of all these genes, strongly suggesting he would have had "dark to black" skin tone, but combined with blue eyes.
More @
Cheddar man