The Raising of Lazarus. 15th century. Novgorod school. The Russian Museum, St. Petersburg, Russia

The Crucifixion Novograd School

Birth – Novograd School

The Descent of the Holy Spirit, Russian icon from the Cathedral of St. Sophia, Novgorod School, 15th century (tempera on canvas)

The Entry into Jerusalem, Russian icon from the iconostasis in the Cathedral of St. Sophia

St.Florus and St.Laurus with the Archangel Michael Northern Russia

Novgorod School "The Transfiguration of Our Lord, Russian icon from the Holy Theotokos Dormition Church on the Voloto"

Russian icon with prophet Daniel by unknown painter, tempera on panel, 16th century, Novgorod School, Russia, Novgorod, State Open-air Museum of History and Architecture Novgorodian Kremlin,

Saints Nicholas and Leonti of Rostov.
Russian, Rostov School, circa 1500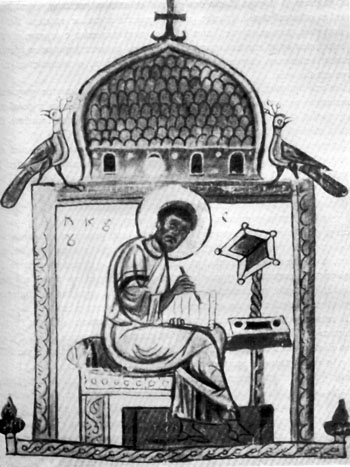 St.Luke. Miniature from Dobrilovo Gospel (Galician-Volyn school). 1164.

Novgorod School, 15th century. St George killing the dragon. Tritiakov Gallery

Shadrack, Mischak and Abednego
The Three Young Men in the Fiery Furnace. The fourth is sometimes interpreted as being the Archangel Michael (15th century icon of the Novgorod school).

Russian icon with Archangel Michael by unknown painter, tempera on panel, 15th