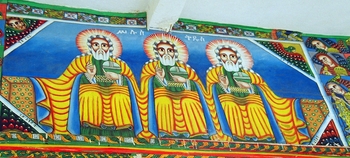 The face of the three Gods of Haile Selassie I – By Jide Uwechia
At the front of the St Mary of Zion Church in Axum, is painted the picture of this 3 distinguished looking, elderly dread-locked black men.
They are known as the Holy Trinity. The St. Mary of Zion Church is the holiest shrine of the Ethiopians. It was first built around 300 AD and has been destroyed and rebuilt a couple of times on the same foundation.
All the Ethiopian Emperors since Emperor Azana the first of the Christian Emperors were crowned therein. The Ark of Covenant supposedly built by Moses to house the Book of the law and the Relics of the I AM, is stored therein.
The last time this church was reconstructed, it was done at the orders of his Majesty Emperor Haile Selassie I. His name means the power of the trinity, in the line of those three black Gods whose image he commissioned to be permanently imprinted on the Holies of Holies of Ethiopia.
This trinity indeed is the joyful message of Rastafari, that God the Holy Black Trinity is indeed God, the Holy Black Rastafari in Council. Go look on the walls of Zion! Look into your own soul!
Some Rastas say the images represent Haile Selassie, Marcus Garvey and Rogers Atiliyah (Marcus Garvey's Guru). The trinity of the Rastafari ideology. They say Marcus Garvey is the Messiah, Rogers Atiliyah is the Priest (the Bobo-Shanti dreads swear that Holy Emmanuel, their guide and teacher is the Priest), and Haile Selassie I is the King. The black trinity. yet others say they signify Marcus Garvey, Selassie, and I. The black trinity!
Since the Ark of God resides in that church, I and I respect and take very seriously the image and the message of the ancient Gods of creation, the I am that I am, Jah'ovia, Selassie, the Black Trinity of Ethiopia !
Head out now to the hills of Mount Zion, to the Holy Church of Saint Mary of Zion, the Holies of Holy shrines of Africa, and go feel the mystical vibrations of the Holy Black Trinity which has been calling out in your very soul since you were born….Haile Rastafari!
Jide Uwechia
See also: http://www.sacred-destinations.com/ethiopia/axum-church-of-mary-of-zion.htm