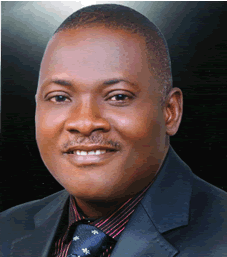 Chukwuma is our CEO of the week.
Mr Innocent Chukwuma needs no introduction in Nigeria. He is the young man from Nnewi, the manufacturing capital of Nigeria who has, from the scratch, successfully built a vehicle manufacturing plant. Before this period, Chukwuma had established a motorcycle manufacturing plant and a plastic plant that is churning out helmets for use by motorcyclists in Nigeria.
The 46-year-old businessman, interestingly, started with just N3,000 he got from his brother and he has, today, built a multi- billion naira business empire. His case is a typical grass to grace story.
Chukwuma, who is a member of the Vision 20:2020, said he is conscious of the fact that Nigerians like quality and that the road network is not fantastic and, because of that, they decided to turn out quality and rugged vehicles that would stand the test of time.
He also said that apart from the durability of the vehicles, they are also cheaper than the imported ones.
His words: "I want to say that I am not afraid of competing with Honda, Toyota or any other big name in the automobile industry. I only have respect for them. My reason is because I have done it before and I hope to do it again. There were a lot of big names in the industry when I went into the manufacturing of motorcycles some years back, but that did not stop me. I went in there and excelled. I have not failed in any business that I have embarked upon, and this one will not be an exception.
Even talking about competition, I can tell you that I have never competed with anybody. I am always competing with myself. I try to turn out quality products and allow the market to judge. So, I am competing with the market for acceptance, rather than the people producing the same thing as I am because the market is the ultimate judge."
According to him, his goal, apart from putting Nigeria on the map of vehicle manufacturing countries, is to stop Nigerians from buying fairly used vehicles, popularly known as Tokunbo, as is now the case.
He said that with the commissioning of the plant, Nigerians could now beat their chest and say, "this is our own," just as the Americans, the Chinese, the Germans and the Japanese. Recently, President Goodluck Jonathan commissioned the Innoson Vehicle Manufacturing Company in Nnewi, Anambra State, and Daily Sun caught up with this rare entrepreneur and he spoke about his foray into business, his challenges and successes.
Chukwuma is our CEO of the week.
Excerpts:
How it all started
I went into business about 30 years ago. I started by selling motorcycle spare parts, which you know is traditional to my people. I am from Nnewi in Anambra State and we are known for that. From there, I graduated into selling of complete motorcycles. Then motorcycle was seen, as luxury because of the exorbitant prices. I was not happy with that because I know that I am not in business to satisfy myself. I want to render service and from the proceeds of my service make a living. So I began to think of a way to make the price of the motorcycle to become affordable for the teeming masses that needed them. It was in the process that I discovered that importers were the major reason why the price of motorcycle was very high.
I found out that the importers were packing their motorcycles in a very big case and when they put the cases into the container, it can contain about 40 units. I reasoned that if the cases could be removed, there would be more room to contain more motorcycles. So when I went to my manufacturers abroad, I told them to knock down the parts of the motorcycles so that I would pack them straight into the container and they agreed.
When they knocked down the parts, I discovered that about 220 units of motorcycles could enter one container. When they did that, I brought the container into the country. So instead of bringing in a container containing 40 units, I brought in a container that contained 220 units and you know that they charge per container and not what is inside it. So with a container, I was saving what I would have paid for five containers and that gave me a very big financial boost.
What I did then was to crash the price of the motorcycles that I was importing so that they would be affordable. However, some people felt that my motorcycles were of inferior quality and that was why I was selling them at give away price. They did not know that I had a technology break through in my packing. They don't know that the reason why my own motorcycles were cheaper was because I was spending far less money in bringing them into the country than the other importers.
All along, I was not happy that Nigerians were driving second hand motorcycles. I felt that we deserve better than that but because of the high cost of brand new motorcycles, the common people could not afford it. So when I began to pack 220 units inside a container instead of the normal 40 units, the price of motorcycles fell by 50 percent and that is why today nobody buys second hand motorcycle again. Even nobody imports second hand motorcycles into the country, as was the case in the 80s and 90s.
As I said earlier, I was the first Nigerian that started packing 220 units of motorcycle inside a container. We tested the market with a single container and it was a success. In fact we sold all the motorcycles within a month. Those who bought them did so half-heartedly because they felt that the reason it was cheap was because they were not of a good quality. But when we exhausted the stock, by the time we came with another stock, the initial buyers have tested it and saw that it was of a very high quality, the other consignments that we were bringing in became hot cake. From one container that we tested the market with, we moved to 10, later 20 and continued to raise the stake. There was a time we were clearing about 200 containers in a month.
Even there were times, before the containers arrive at the Nigerian ports; people had bought all in advance. That was a testimony of the quality of our products. One can say that it was quality matched with affordability. Our motorcycles were of a very high quality but yet very affordable.
Going into motorcycle manufacturing
After we had made a success of importation of motorcycles, I decided to step up the business. I believe in setting the pace for others to follow. When I began to bring in my motorcycles in containers instead of cases, after a while other businessmen copied me and began to do the same. So I told myself that it is time to move forward. You can agree with me that while downstairs are always crowded, there is always vacancy up stairs. So I took a good look at motorcycles and discovered that it has a lot of plastic components. Because of this, I set up a plastic producing company in Emene, Enugu to be producing the plastic components of motorcycles.
I felt that if I could manufacture some of the motorcycle parts here in Nigeria, it would further help in the reduction of the price of motorcycles. The plastic company started to produce the spare parts while we continue to import the parts that we could not produce here. With this, the price of motorcycles was further reduced to the extent that they became affordable to whomever that needs it.
While we were producing the motorcycle spare parts, we realized that the plastic plant was being under utilized, so we decided to incorporate other things like plastic chairs, tables, upholstery, plastic containers and so on. The idea was to keep the plant producing at full capacity and today it has paid off because, it has helped us to employ a lot of staff and millions of Nigerians are using our products which they are buying at give away prices. Even people from neigbouring countries come to buy our plastic products.
There is no part of the country that you will go and will not see Innoson plastic products. As I said, we have used it to create a lot of direct and indirect employment. You should also not forget that we are into the manufacturing of crash helmets. In fact, we are the biggest helmets manufacturing company in the West African sub-region. From the plastic factory also we produce tyres for vehicles, motorcycles, tricycles and others in the same company. People also come there for customized plastic products.
Challenges
The challenges of manufacturing in Nigeria are enormous. You and I know that there is the problem of infrastructure. However, what is encouraging me to go on is the patriotism in me. My businesses are people driven rather than profit driven. I am in business to deliver service to Nigerians. I am in business to boost Nigeria's economy. I am in business to empower Nigerians through mass employment and good remuneration. These things are far more important to me than profit and that is the spirit that is keeping us marching on.
Sometimes, when the burden becomes too much, I look around and see thousands of family who depend on me for their daily bread. Then I would ask myself what would become of these people if I should relent? When I ask myself that question, my sagging spirit would be revived and I would get back on my toes. But to be honest with you the challenges of being a manufacturer in Nigeria is over whelming. If I tell you how much we spend on energy in a month, it would shock you.
The roads are also another thing. We are engaged in manufacturing and distribution. We also spend huge sums of money on wears and tears of our distribution vans. Some times our vehicles would break down on the road due to bad road. At other times, it takes longer than the scheduled time and that means you spend more on fuel than you would have if the roads were smooth. But I am grateful to God who has been seeing me through all these challenges.
I have never failed in any endeavour that I started and I know that it is not because of my intelligence but the grace of God, the support of my family and my workers who are ever ready to go to the extra mile in spite of all the odds on the way. For instance, when I started the Innoson Vehicle Manufacturing plant, three of my foreign workers were kidnapped and that almost ruined the business. But God helped us to over come the challenge and today we are celebrating the birth of Innoson vehicles, which is the first of its kind by a Nigerian.
Why vehicle manufacturing?
What made me to go into motorcycle manufacturing was the same thing that made me to go into vehicle manufacturing. When I went into business in the early 80s,brand new motorcycle was seen as an elite thing. It was seen as something for the well to do. A preserve of the rich. The reason was because of the price, which was on the high side and therefore unaffordable to the common man. Then if you buy CD 175 or CD 185,you would be seen as a very rich man.
People who were not wealthy enough were settling for second hand motorcycles and I was not happy with it. I began to think of what I would do to reduce the price of motorcycles so that they would become affordable. That was why I discovered that part of the problem was the way they were packing the motorcycles before bringing them into the country. When I discovered that, the rest as they say became history. The same problem that the masses were facing in the 80s has resurfaced in automobiles.
The price of brand new cars is practically unaffordable to most Nigerians. In fact over 80 per cent of Nigerians cannot afford brand new vehicles. That is why second –hand vehicles or tokunbo has become the order of the day. If somebody buys a brand new car, he is seen as a God. Even police gives him special respect on the road. They think twice before stopping him because in their mind, before he can buy a brand new car, he must be well connected.
I am not happy with this and that is why I began to think of how I can make the price of vehicles to become affordable. I don't want cars to be seen as an elitist thing and I am not happy that Nigerians are driving tokunbo vehicles. It does not give us respect in the eyes of the international community. A country that is as blessed as Nigeria, the fifth biggest oil exporter in the world should not be used as a dumping ground for vehicles that have been used in the other parts of the world. Based on the experience that I got when I was importing and later manufacturing motorcycles, I know that if Nigerians see cars that are comparatively cheap, they would stop driving tokunbo cars.
That was how I began to think of how I can make this possible. It took me about seven years to solve this great puzzle. Vehicles have many plastic components and I have a flourishing plastic company, which is among the biggest in Africa. So I began to research into how many vehicles components that could be sourced locally and I discovered that a lot of them could be produced here. That was how I took off. When people hear that Innoson want to manufacture vehicles, they laugh it off. They said that it is mission impossible but with the commissioning of the vehicles by President Goodluck Jonathan, those doubting Thomases have seen that it is a reality that Innoson is manufacturing vehicles and a lot of them are already making waves on the roads across the country.
Our type of vehicles
We manufacture different types of vehicles and they include Pick-up vans, buses, Sports Utility Vans (SUV). We also manufacture tricycles popularly called keke NAPEP. Our vehicles are built with the state of the roads in the country in mind. We know that our roads are not good so we decided to make our vehicles rugged enough to withstand the shocks on the road. So our vehicles are more rugged than the imported ones because we are the ones that are wearing the shoes so we know where it is pinching us. Unlike vehicles that were manufactured for London or New York roads where roads are smooth.
I can tell you that in terms of durability, Innoson vehicles are more durable. Also in terms of price, ours is also cheaper. As I told you earlier, ours is quality matched with affordability. I want to stop Nigerians from driving tokunbo cars because it does not command respect and also because of its inherent risks. That is why we decided to make sure that we come out with vehicles that Nigerian could afford.
What we want from government
What we want from government is to patronize made in Nigeria products like vehicles and others. Government should stop feeling that made in Nigeria products are of inferior quality compared with their imported counterparts. If the president, governors, senators and other dignitaries begin to drive in Innoson vehicles, it would go a long way to build confidence in other Nigerians to begin to patronize made in Nigeria products. It would also inspire other Nigerians to go into manufacturing. The fear of most potential manufacturers is government preference of foreign made goods. But once they begin to see government officials making use of made in Nigeria products, it would inspire them to bring out their best for their fatherland.
We have seen what happened in Chile recently. I am talking about the rescue of the 33 miners. You can agree with me that because of that every Chilean has become proud of his or her country. The incident reawakened their national consciousness and love for country. That is exactly what would happen when we see top government officials patronizing made in Nigeria products.
So in this case, I feel that government should set the pace for others to follow. Another thing that I want from government is to make sure that the Ajaokuta steel industry comes to life. If the company can be resuscitated, half as far as machinery is concerned would solve the problem of Nigeria. That Nigerians both public and private still import hardware is because the company is not functioning. If it is made to function to full capacity, we will stop the importation of most of the automobile spare parts as well as the moulds that is used for different types of machines.
Innoson vehicles and Nigerian economy
Well, as a member of Vision 2020, what I am doing is in tandem with the vision. There is no way Nigeria can become one of the 20 top economies in the world in the year 20 20 if we are not manufacturing. Right now by going into the manufacturing of automobiles, I have put Nigeria in good stead towards the realization of the vision. Some people think that the vision is a mere slogan but it is not so. It is achievable if we have the political will to do just few things. The first is for government to fix the power sector. Once the power sector is fixed, there would be a boom in manufacturing in the country. The second thing after fixing the power sector is to make the Ajaokuta steel company to begin to function at full capacity.
If the steel company begin to function at full capacity which means Nigerians would be getting the machines they need for production here in Nigeria coupled with steady power supply, Vision 20:2020 has been achieved because Nigerians are not only industrious, they are also creative. The other minor things are for government to encourage banks to be giving reasonable credit facilities to genuine manufacturers and then fix the road network and give tax holiday to manufacturers.
Once this is done, Nigeria would become one of the most industrialized nations in the world within the next five years. We will make a quantum leap to join the league of China and Japan. We have the acumen to be there but what we lack is the enabling environment to spur us on.
Again, Nigerians should also learn to be patient. We just celebrated our golden jubilee but we want to compete with those that have been there centuries ago. Rome as they say was not built in a day. From all indications, we are not doing badly. About 50 years ago, Japan was building the worst cars in the world. Then America was on top with General Motors (GM), but today Japan with Toyota has taken over the global automobile industry. So, we should not always try to be in a hurry.
There is a saying that slow and steady wins the race. Let us concentrate on doing good work and before you know it we will be there. It is also my desire to use this plant to boost Nigerian economy. One of the things that have made Japan a super economy is the automobile that it is manufacturing.
You may not believe it Nigeria is the biggest consumer of automobiles in the world. For instance, when Mercedes was in vogue, Nigeria was consuming more Mercedes cars, today Nigeria is consuming more Toyota and Honda cars. Therefore, if Nigerians can be patriotic enough to be patronizing made in Nigeria vehicles all these money would remain in Nigeria and would be circulating in Nigeria. We will have more money on our hands to develop our country. As the plant is expanding, we will be providing more employment for the people.
Fear of competing with other automobile manufacturers
Well, whoever knows my antecedent in business would know that I don't fear competition rather I encourage it I believe that business becomes boring if there is no competition. So right now I am happy that Toyota and Honda are already there. That would make me to bring out my ingenuity. One of the gifts that God gave me is creativity.
Whenever I sit down and look at something for a while, I would see a way to take it to the next level. When I went into motorcycle business in the 80s,there were a lot of big names but I was not scared of them. Within a short time I became a force to be reckoned with in the industry. Therefore it is that determination, that mindset that I have brought to this vehicle manufacturing business. To tell you the truth, I am not scared of Toyota or Honda. I only respect them but I am sure that within a short time, Innoson brand of vehicles would become as popular as their own brand.
http://odili.net/news/source/2010/nov/1/512.html