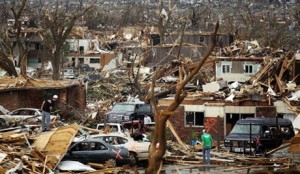 The State of Missouri was hit by a devastating tornado of apocalypic proportions. Entire areas looked like bombed out zones. Reportedly 2000 houses have been completely destroyed, and many more suffered wide spread damages. The number of victims has risen to 118 person and counting
Rescuers are facing huge challenges searching for survivors, as they are forced to deal with persisting adverse weather conditions in the disaster zone, aggravated by continuing rain and thunderstorms.
The town of Joplin is particularly badly hit. A massive tornado passed through the town killing at least 116 people. The tornado that ripped through the town of about 50,000 people May 22, is being called the deadliest single tornado in the U.S. in 60 years.
There is more bad news for Missouri. According to weather forecasts, in the next few hours Missouri and neighboring states will be hit by renewed gale force winds and hail. Thus, there is a high probability of new destructive tornadoes.
Wind speed at the epicenter reached 318 km per hour. Gale force gusts leveled entire neighborhoods. The wreckage of homes and cars was scattered in a radius of 100 kilometers.
News Report