King Kenneth Dubh: 962 – 997 AD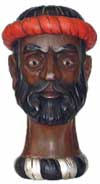 Dub mac Maíl Coluim (Modern Gaelic: Dubh mac Mhaoil Chaluim) sometimes anglicised as Duff MacMalcolm Niger, "the Black" (died 967) was king of Alba.
He was son of Malcolm I (Máel Coluim mac Domnaill) and succeeded to the throne when Indulf (Ildulb mac Causantín) was killed in 962.
Niger Val Dubh lived and reigned over certain black divisions in Scotland. A clan of Scots known as 'the sons of the blacks' (MacDub or MacDuib, MacDuff) succeeded him in history. (JA Rogers, Sex and Race).
Dubh's descendants, the clann Dubh, (clan MacDuff) became officials of the Scottish court and later Earls of Fife.
King Kenneth III son of King Kenneth Dubh


Cináed mac Duib (Modern Gaelic: Coinneach mac Dhuibh) anglicised as Kenneth III, and nicknamed An Donn, "the Chief" or "the Brown", (before 967–25 March 1005) was King of Scots from 997 to 1005. He was the son of Dub (Dub mac Maíl Coluim) otherwise known as Kenneth Niger or the black. His image depicts him as a black Scotsman. His line of Kings descending from King Kenneth Dubh was known as the "sons of the black." See J.A. Rogers. Dub is a Gaelic word meaning black.
He succeeded to the throne perhaps after killing his cousin Constantine III (reigned 995–997); he was himself killed at Monzievaird by Malcolm (son of Kenneth II), who became Malcolm II. Gruoch, wife of the future King Macbeth, was apparently a granddaughter of Kenneth III.
The father of Kenneth III was known as "the black". Kenneth himself was known as "the brown". Probably because he was mixed blood or probably because he was lighter in complexion than his father. Whatever may be that answer, it is clear that Kenneth Dub and Kenneth III were darker in complexion than what represents itself as the Scots of today.
See
J.A. Rogers, Sex and Race
http://www.britannica.com/EBchecked/topic/314915/Kenneth-III
http://en.wikipedia.org/wiki/Dub,_King_of_Scotland