What happened to the Black European?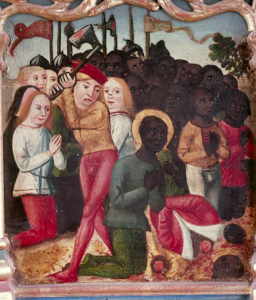 So-called Martyrdom of Saint Maurice and the Theban Legion
Germany (c. 1500) Oil on Wood, 66 cm.
Brühl, Katholische Pfarrkirche St. Margaretha.
The Image of the Black in Western Art Research Project and Photo Archive, W.E.B. Du Bois Institute for African and African American Research, Harvard University
The black European bleached out by mixing with pale Slav and Goth immigrants from Central Asia. Many white European are not really white they are bleach out black people. Black and mulato European became a strong minority (40%) in Europe after the large migration of pale central Asian to Europe in the 6 cent CE. Pale Central Asian became 60% of the population.
The first European were the black Khoisan called Grimaldi that migrated to Europe 50,000 years ago. The Greek were black and brown people.. The Roman were black and brown people. Europe until the late colonial era of the 18 cent CE was ruled by black and brown monarchs, nobilities, clergies, intellectuals and bankers.
The white masses uprising in the French revolution (as well as numerous unreported genocides) and the degradation of black in the African slave trade forced the black nobilities of Europe and the black European masse to mixed with the white European in order to bleach out.. Many dark skin European live in South Spain, South Italy, Romania and Bulgaria.