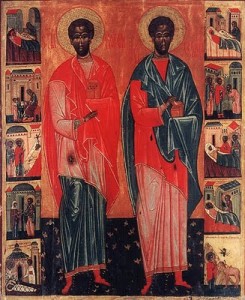 Saints Cosmas and Damian
A Hymn of Praise
The Church glorifies the miracle-working physicians,
Shining stars that shine with the Lord,
St. Cosmas and St. Damian,
Two Christians, wondrous giants.
Theodotia was the mother of these sons;
She nourished these giants.
The glorious brothers fulfilled the law,
And by their mercy pleased Christ.
They pleased Christ, the Merciful One,
The greatest Unmercenary Physician.
They received the gift, and became physicians;
They received the gift, but did not sell it.
They gave the gifts of God to the poor,
And in the name of Christ healed them.
Time has not covered God's saints with darkness;
Thus it has always been, and thus it is now.
Nor has it covered the wonderworking physicians;
They shine today as they once did,
And help the infirm and the unfortunate
By mighty and willing prayers
Before Christ's heavenly throne.
Honor and glory to the wondrous physicians!
— by St. Nikolai Velimirovich
See: http://www.westsrbdio.org/prolog/prolog.htm
See: http://full-of-grace-and-truth.blogspot.com/2008_10_01_archive.html