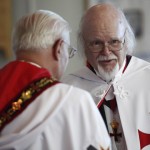 The Knight Templars Gather for the Modern Crusades – News Report
OTTAWA — With spurs, sword and swirls of white and crimson, the Knights Templar began a new priory in Ottawa this weekend.
The Priory of Simon Peter is the third such group in Canada, and one of several hundred worldwide dedicated to upholding the chivalry of the centuries-old order. More specifically, they work to keep Christianity alive in the Holy Land.
The sunny May afternoon, the tuxedos and formal wear, even the bagpipe escort, gave the ceremony at the Canadian Forces Uplands chapel the air of a wedding rather than an ancient rite.
The six men and four women joining the Sovereign Military Order of the Temple of Jerusalem took oaths to "fight from this day forward to be a defender of the kingdom of Christ."
Each came forward, knelt, and bowed slightly as a metre-long replica of a Templar sword alighted on the shoulders and head.
"Arise, sir knight" said officiant Ronald Matthewman, Grand Prior of Canada.
A traditional red cross on a crimson ribbon was placed around each postulant's neck, then a white, floor-length cape was draped across their shoulders. Another officiant held aloft a pair of silver spurs, tapped them twice, then bent down to place them (momentarily) on each postulant's heels.
The dames and knights all touched the hilt of the sword with the three central fingers of their right hand "as a sign of fidelity to the order."
……………………………….
More @ Ottawa Citizen : http://www.ottawacitizen.com/news/Arise+knight+Templars+priory+capital/1626534/story.html