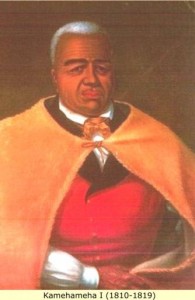 The Great Black Kings of Hawaii: President Obama proclaims King Kamehameha Day
HONOLULU — President Barack Obama is urging the nation to celebrate Kamehameha (kah-MAY-hah-may-hah) Day along with Hawaii.
Obama who is the first black as well as the first Hawaii-born president of the United States signed a statement Thursday proclaiming June 11, 2010, Kamehameha Day in honor of "King Kamehameha the Great," the great black King of the Black Hawaiians before its conquest by American sponsored aggression.
King Kamehameha unified the Hawaiian Islands under one government. See his picture posted. View the video the Black Kings and Queens of Hawaii, posted on Rasta Livewire.
The Native Black Hawaiian:
Not many people realize that the original Hawaiians are a Black people and have been living in the western pacific for as long as time can recall.
It is even more important to reflect about the true ethnicity of the original Americans who were either killed off by the westerners as claimed by western historians, or must have been sold down the river and degraded down into and hidden behind a facade of a slave or "negro" class.
Hence they are millions of Black Bajans, Black Khalifania or Californians, Black Hawaiians, Noble Muurs who have always lived on the western hemisphere before the rise of Christopher Colons (Colombus). Those masses are still alive mislabled as the African Americans. Miseducated by miseducation.
The slave trade did not bring every black person to America. Some came from the Atlantic triangular slave trading system. But others were simply kidnapped in this Americas, and mis-labelled as slaves and negros (necros) by the American slave code of the old south, a law passed by the European pirates and their descendants to undermine the pre-existing black order and black population (again parallel to the fate of Hawaiis black population).
There were millions of black people, Muurish people living on this side of America, from New York to Baja California, through Georgia and Alabama. They were there as natives, as indigenous people, the in-dios or Indians, children of the Gods.
Black people were living in the Americas and the western Pacific as Kings and Queens, long time before the first pale European stepped out of the caves.
And this is the importance of recollecting and celebratng the history of the great black Kings and Queens of the Americas, like our great Father King Kamehameha, who has been honoured by our great brother President Baracka Obama.
President Obama in that very spirit calls on "all Americans to celebrate the rich heritage of Hawaii with appropriate ceremonies and activities."
Muurs must take note. Blacks-a-moores take note. Negros and African-Americans must also take note. Get a picture of King Kamehameha of Hawaii, research his story, and reflect on the reason why you look so much like the first Kings of the Americas.
King Kamehameha's legacy is preserved in Ke Kanawai Mamalahoe, or "the Law of the Splintered Paddle.
Oguejiofo Annu
June 12, 2010