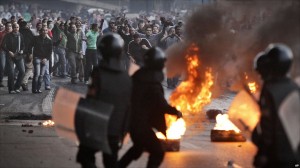 The fire that Mohammed Boazizi lit is still raging
Egypt Protests
About 700 people have been arrested throughout Egypt in a crackdown against anti-government protests, security officials say.
The arrests came as police clashed with protesters in two cities following Tuesday's unprecedented protests.
One protester and one policeman were killed as police broke up rallies in Cairo, and in Suez a government building was reportedly set on fire.
Public gatherings would no longer be tolerated, the interior ministry said.
Anyone taking to the streets against the government would be prosecuted, it added.
The BBC's John Leyne in Cairo says the authorities are responding in familiar fashion, treating a political crisis as a security threat.
Prime Minister Ahmed Nazif was quoted as saying the government was committed to "freedom of expression by legitimate means", state news agency Mena reported. Police had acted with restraint, he said.
However, Washington has called on the Egyptian government to lift its ban on demonstrations….
More @ http://www.bbc.co.uk/news/world-africa-12289475