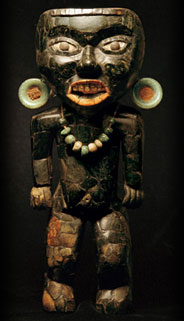 Pictures of the Teotihuacán culture from the National Museum of Anthropology.
Site– Teotihuacán, Nahuatl for the city where one becomes god,or city of the gods.
Period– 200 B.C. – 600 A.D. Was frequently visited by the Aztec after its downfall.
Local– Twenty-five miles north-east of Mexico City.
Culture– Teotihuacáno's, Maya, and Mixtec/Zapotec.
Religion– Polytheistic
http://www.whereareyouquetzalcoatl.com/mesoamerica/teotihuacan/teotihuacan.html