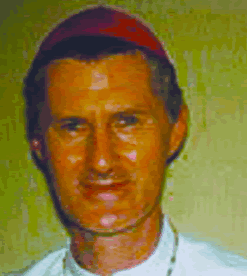 Tuesday, June 1, 2010
Pope Benedict XVI yesterday accepted the resignation of Irish Prelate, Richard Burke, the Archbishop of the Nigerian Diocese of Benin City, accused of molesting a teenage girl, the Vatican said. The archbishop stepped down after the allegation was made last year. Dolores Atwood alleged she was sexually abused by Archbishop Burke when he was a priest in Warri.
Atwood, now reportedly living in Canada, lodged the complaint against Burke, saying he had begun abusing her when she was a 14-year-old patient in a hospital in Warri and that she later had a relationship with him. However, Burke said the relationship began in 1989 when she was 21 and he was 40.
The 61-year-old Burke, in a statement to the weekly Irish Catholic, voiced "deepest sorrow for my inappropriate, irresponsible and repeatedly sinful conduct," but denied having abused a minor.
"I take full responsibility for my actions. I wish to express my deepest sorrow for my inappropriate, irresponsible and repeatedly sinful conduct," he wrote.
"The reason for my resignation is that I have been unfaithful to my oath of celibacy," he said in the Irish Catholic newspaper.
Burke, of Tipperary in South-Central Ireland, voluntarily left his position last year after Atwood filed the complaint. He had been named Archbishop of Benin City in 2008.
I have never, ever, in my life in anyway sexually abused a child," Burke said yesterday. "This is still my position. It is the truth." An investigation carried out by St Patrick's Missionary Society, of which Burke was a member, "found no evidence to corroborate the allegation of child sexual abuse made by Mrs Atwood," the society said in a statement.
Ireland, a predominantly Catholic country, was rocked by two successive reports last year revealing widespread abuse mainly of boys by priests going back decades, coupled with the Church hierarchy's complicity in covering it up.
The pope had earlier accepted the resignations of four Irish bishops or auxiliary bishops involved in the scandal. On Monday, the Vatican said it would launch a promised investigation in the autumn.
Burke was born on February 19, 1949 at Clonmel, Ireland. He professed on October 1, 1971 and was member of St. Patrick's Society for the Foreign Missions. He was ordained deacon on June 7, 1973 and became Deacon of St. Patrick's Society for Foreign Missions.
Burke became Priest of St. Patrick's Society for the Foreign Mission after he was ordained priest on May 18, 1975. On December 6, 1995, he was appointed Coadjutor Bishop of Warri. He was ordained Bishop on January 6, 1996 (But remained Coadjutor Bishop of Warri) until March 3, 1997 when he was appointed Bishop of Warri.
On December 24, 2007, he was appointed Archbishop of Benin City. On this same day, he was appointed the Apostolic Administrator of Warri. He was formally installed as Archbishop of Benin on March 7, 2008.
Burke resigned as Apostolic Administrator of Warri on March 29, 2010 while he resigned as Archbishop of Benin on May 31, 2010.
More @ http://odili.net/news/source/2010/jun/1/508.html