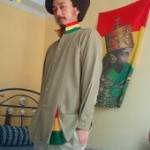 Ras Muhamad – Indonesia's Rastafari Ambassador – By Lion!
In Indonesia- new voices are emerging, trying to influence the masses in their daily struggle to make meaning of life…
One such voice is Ras Muhamad, a young reggae singer.
Ras Muhamad is a young lion shaping his own destiny in Southeast Asia.
He was born in Indonesia's capital Jakarta, but was raised in the New York borough of Queens US in the early 1990s, before returning home four years ago.
He sighted Rastafari while still in high school and has remained steadfast ever since.
He leans towards the dance-hall school of reggea music.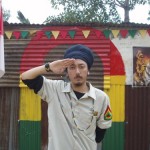 Awards
Things are shaping up for Ras Muhamad as his awards and accolades have been pouring in the since the last year.
He was chosen by Rolling Stone magazine Indonesia as Best New Reggae Artist in 2008.
His song Musik Reggae Ini (This Reggae Music) was nominated for an AMI Award – Indonesia's biggest music award in the same 2008. ..
His songs are often a critic of the socio-political culture.
He decries the lack of care and love in society in new his song Crisis.
He consistently calls for equal rights and justice for one and all.
"It seems like the richest of the rich, they just look after themselves and they never reach out to the poor, they never help the underprivileged," he says.
He says however that it is for both groups to try to change things.
"The rich can't stay by themselves they have to reach out, and the poor, they can't just say, 'I'm poor, ok and well that's it, can't do anything about it', you know."
Rastafari Inspiration
Ras Muhamad has certainly become one of Rastafari's most familiar faces in Indonesia. He is the leading musical ambassador for reggae in South East Asia.
He is internationally renowned and has worked with a slew of musicians from across the globe.
His inspiration comes from influences like Bob Marley and Peter Tosh. Reggae music suits his voice and style, and is the perfect tool for him to convey a message.
He hails Emperor Haile Selassie I and looks up to the first president of Indonesia, Sukarno, the founder of the Non-Aligned-Movement.
…..
See: BBC NEWS:
http://news.bbc.co.uk/go/pr/fr/-/2/hi/asia-pacific/8063835.stm