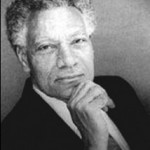 Adieu Professor Ivan van Sertima
Well known Guyanese-British literary critic, linguist, poet and anthropologist, Dr Ivan van Sertima, died recently, according to a release from the Guyana Cultural Association New York Inc/Guyana Folk Festival.
Dr van Sertima was born in January 1935 in Kitty when the country was still a British colony and remained a British citizen. After completing his primary and secondary schooling in Guyana, he travelled to London and went to university.
In addition to producing an array of creative writing, van Sertima also completed undergraduate studies in African languages and literature and during his studies he became fluent in Swahili and Hungarian. He also worked for several years in Great Britain as a journalist, doing weekly broadcasts to the Caribbean and Africa.
He later immigrated to the US where he entered the University of Rutgers in New Brunswick, New Jersey for graduate work and he has had over 30 years of teaching at the university where he also completed his Master's degree.
He was an associate professor of African Studies in the Department of African Studies.
http://www.stabroeknews.com/2009/news/local/05/29/ivan-van-sertima-dies/