Spread the love
1

Share
Etymology of the words "Swarthy" and "Muurish":
Nordic: Svarti meaning Black
Germanic: Schwartz meaning Black
English: Swarthy meaning Black
So Schwartzman, Schwarzenneger, or Swarthy complected man, all talking about the same man:
The Muur. The Muir, the Moors, il Moros, the Maurs.
In Greek, Maur means black. In latin and all its derivative languages, Moro means Blackman. In English Muurish refers to a black man's national origin.
African continent is where Mauritania lies, and Co-Moros and Moro-cco, and Mara-kesh. The Muurish country.
The Muur was the only European who ever had swarty complexion.
You know the Muur already. This man here:
Stained glass medallion depicting the arms of Tucher, Nuremburg, Germany, 1500-99. Museum no. C.101-1934 (Roundel)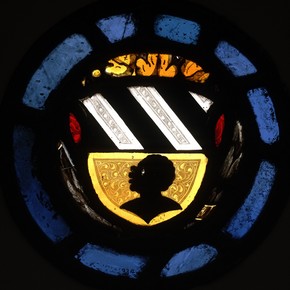 Spread the love
1

Share