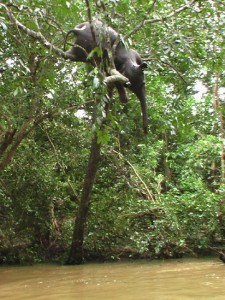 What is going on in 2011? Are you guys tuned in?
According to the BBC News site, "this baby elephant was found dead high up a tree in northern Sri Lanka after the Kaloya river rose 18ft (5.5m) above its normal height following torrential rainfall."
Thousands of blackbirds falling from the sky all over America and Europe, millions of dead fish, biblical flooding in Australia and now an elephant high up in a tree. Signs and wonders…
Rasta, tis Armaggedeon time….
Stay tuned in!
Lion!