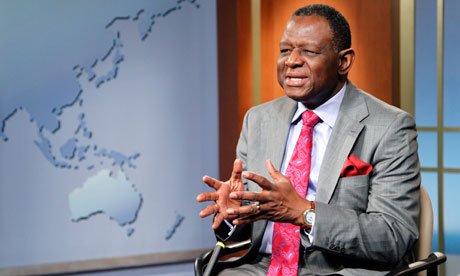 Executive director of the United Nations Population Fund, Babatunde Osotimehin
The international community has "made a mistake" with the intensity of its focus on the global HIV-Aids epidemic and lost ground on family planning issues as a result, according to the head of the United Nations population agency.
In an interview …. Babatunde Osotimehin, the executive director of the UN Population Fund, said efforts to expand family planning services in the developing world stalled for a decade while global health organisations turned their energies to fighting HIV-Aids.
"We made a mistake. We disconnected HIV from reproductive health. We should never have done that because it is part and parcel," he said.
About 60 million people have been [supposedly] infected with or died from HIV-Aids in the 30 years since the virus was first identified in the US. Meanwhile, the global population is due to hit seven billion on 31 October. About 1.8 billion are young people, the vast majority of whom are living in the world's poorest countries.
By criticising decades of development policy by the UN and world governments, Osotimehin's remarks are hugely controversial. Experts on HIV-Aids and population challenged his views.
….
Osotimehin, a doctor and former health minister in Nigeria who is the father of five children, suggested HIV-Aids was a bigger setback than the policies of George Bush – who cut funding to the UNPF and other family planning efforts. He said family planning was already "off the radar" at the time because of the preoccupation with HIV-Aids.
"A lot of us that were trained and had skills in reproductive health moved to HIV and the world believed at the time that HIV … could be solved as an emergency. You could wipe it off and come back to business as usual," he said.
He had found it difficult to talk about family planning at the height of the HIV-Aids crisis. "It was going to be impossible for me to stand up in a country where young men and women are dying and to say 'Excuse me I think you need to cut down on birth rates'. It was just not kosher," he said. "You couldn't begin to tell people 'You know, you are still having too many children,' when they had just lost their kids."
…
Osotimehin said the international community was regaining momentum in its efforts to make family planning services available to women in all countries.
…