Sarah Palin's fundraising instrument, SarahPac, had posted an advertisement to target Democratic Arizona Rep. Gabrielle Giffords. The photo has since been removed from her website.
However, CLG obtained it and reposted it on its site. (Photo supplied by Bruce L.)
Below Rasta Livewire relinks the picture: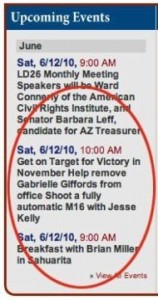 Furthermore, Giffords had expressed concern about her safety and life, even before the shooting, in regards to Sarah Palin's subliminal messages. In an interview after her office was vandalized, she referred to the animosity against her by conservatives, including Sarah Palin's decision to list Giffords' seat as one of the top "targets" in the midterm elections.
"For example, we're on Sarah Palin's targeted list, but the thing is, that the way that she has it depicted has the crosshairs of a gun sight over our district. When people do that, they have to realize that there are consequences to that action," Giffords said in an interview with MSNBC….