Very Rare Black and White Twins Celebrate 4th Birthday
By Alyssa Sparacino Jul 26th 2010
The Richardson family recently celebrated the 4th birthdays of their twins, but the boys are anything but identical, the Daily Mail reports.
In 2006, mother Kerry Richardson, who is of English and Nigerian descent, gave birth to a white, or Caucasian-looking, boy named Layton a few minutes before delivering a black son named Kaydon.
The boys have a white father, but doctors told the family the chances of Richardson giving birth to a white baby, let alone simultaneously with a black child, were about a one in a million.
Richardson later welcomed another addition to the family, her baby girl, Tiyannah, whose skin is also white.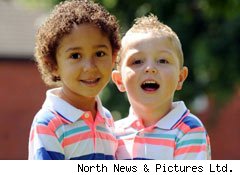 "Before the twins, I would have expected that any child of mine would have my color in them," she told the Daily Mail. "But after Layton, I wasn't sure what she was going to look like."
The boys' mother said she is worried how their appearances will affect them as they get older.
"It's never been an issue up to now, but I know that Layton notices the difference in their color," she told the Daily Mail. "I hope it's not going to be a problem when they start school, but kids can be cruel."
Their skin tones are just the beginning of the twins' differences, and their mother says their personalities are often surprising.
"Kaydon is hyper and excitable, whereas Layton can be moody and stubborn," Richardson told the Daily Mail. "Kaydon is into arty stuff and jigsaws, and Layton is crazy about superheroes. You couldn't find two twins who are more different."
The same week of the twins' birthday, Ben and Angela Ihegboro, a black couple from London, became the parents of a white, blonde, blue-eyed daughter.
Doctors later confirmed that baby Nmachi was not albino, and her shocked parents are just happy she's healthy.
The Daily Mail reported that after joking about being the girl's father, Ben said, "Of course she is mine."
"She is beautiful, a miracle baby," mother Angela added
http://www.aolhealth.com/2010/07/26/very-rare-black-and-white-twins-celebrate-fourth-birthdays/?ncid=txtlnkusheal00000002