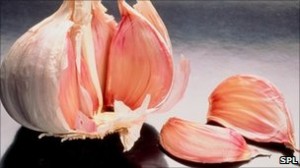 Garlic may be useful as an alternative treatment for high blood pressure, a perenial killer amongst Africans and African-Americans. This has been widely noted by alternative health care providers specializing in the health of Africans and those in the diaspora.
Australian doctors enrolled 50 patients in a trial to see if garlic supplements could help those whose blood pressure was high, despite medication.
Those given four capsules of garlic extract a day had lower blood pressure than those on placebo, they report in scientific journal Maturitas.
Garlic has long been known to be good for the heart.
Garlic supplements have previously been shown to lower cholesterol and reduce high blood pressure in those with untreated hypertension….
According to studies by American scientists at the University of Alabama (published in Proceedings of the National Academy of Sciences), the key to Garlic's positive effect is allicin, which is broken down into sulphur compounds so good for the heart and the blood.
These compounds react with red blood cells and produce hydrogen sulphide which relaxes the blood vessels, and keeps blood flowing easily.
More @ http://www.bbc.co.uk/news/health-11767440