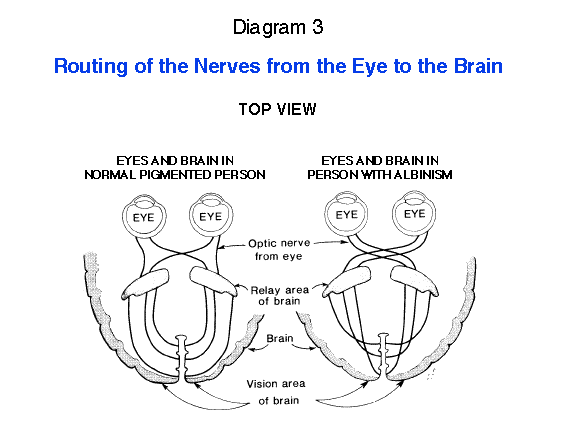 See those connections from the eyeball to the brain on the leftmost figure (normal) versus the rightmost (non-melaninated)?
They are comprised on Superconducting melanin offering a resistance-less direct connect to the brain. therefore, no signal is attenuated or lost.
The connections on the leftmost figure are sulfur based connection with less than ideal conductivity. They have signal loss, and routing is reconfigured during birth to compensate for the lack of melanin and signal loss. Had it not, the person would have been born blind.
Notice how jumbled up the leftmost connections are relative to the figure on the right.
Have you observed that so-called whites and Ashkenazi Jews often require Vision ads at age 4-5 yo?
Just one fundamental delta between blacks and albinos, but one so significant, it is the primary means used to determine the presence of Albinism.
BTW, the research and chart are developed by your own so-called white people.
In fact, everything I post is correlated and derived from Albino research resources.