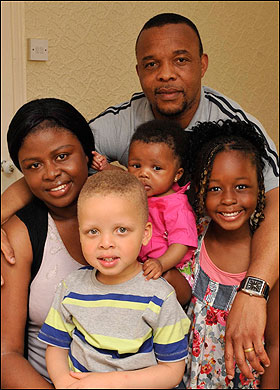 Fair-haired, green-eyed toddler Emmanuel Ofor poses happily with his family – in another case of a white child born to black parents.
The baby girl is to undergo full genetic tests after doctors said the odds of her white colouring were "between many millions to one and a million to one."
Now Emmanuel – whose two sisters, Afoma, six, and six-month-old Whitney are both black – is also beginning to wonder why he looks different.
Dad Ethelbert, 43, said yesterday: "It is something genetic but we don't know what.
"Emmanuel has got to the age where he is questioning why he is white and his sisters are black.
"We have to tell him that we just don't know the answer."
Mum Nkemakonam, 34, said nurses gathered round in amazement when she gave birth to Emmanuel in February 2007.
She revealed: "I was shocked as well – but not as much as everyone else.
"I have a distant cousin back home in Africa who had been born white to black parents as well, so I knew it could happen."
Neither five-day-old Nmachi, of Woolwich, South London, nor Emmanuel, who lives in Middlesbrough, are albino.
Ethelbert, a psychiatric nurse originally from Nigeria, said of his son's birth: "I think the medical staff were concerned about how I would react.
"They didn't warn me about his colour, and when I saw him for the first time they were looking very closely at my expression.
"They then asked me if I was happy and I told told them, 'Of course I'm happy'."
Like his wife, Ethelbert also has a distant relative in Africa born white to black parents.
He admits that some cruel people have urged him to get a DNA paternity test.
But he said: "There is no need. I know he is my son."
His baffled mum and dad have still not managed to find an explanation for the genetic mix-up three years after the youngster was born.
It comes after The Sun revealed … how blonde, blue-eyed newborn Nmachi Ihegboro's arrival had amazed black parents Ben and Angela who believe they have no white ancestry.
http://www.thesun.co.uk/sol/homepage/news/3063827/White-toddler-Emmanuel-Ofor-has-black-parents.html