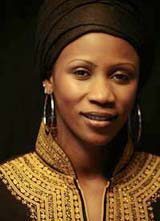 Sister Fa is the outstanding queen in the competitive male dominated world of Senegalese hip hop. She has been around for almost 10 years with her powerful flow, bewitching melodies and conscious female powered lyrics.
Sister Fa entered this world in the early 80s in Dakar, the vibrating capital of Senegal.
She took her first steps in music back in 2000 by getting acquainted with the local rap scene and recording her debut demo-tape. Nourished on the energy and creativity of West Africa's Hip Hop metropolis, she injected these into her own music with inimitable artistic expression. Her urbane vitality has its roots in the Casamance in Senegal's south. Rich musical and cultural traditions from her family's native country have significantly influenced her artistic output, lending it a uniquely personal note.