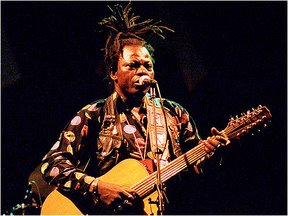 "The world is a prison," says Tanzanian superstar Remmy Ongala.
"There are people who are proud of their lives and others who are always suffering. Many musicians sing about love, about life. I try not to sing very much of love, [but] to try to illuminate the situation of the world." -- Remmy Ongala
One of Tanzania's most popular musicians, Remmy Ongala, has died at his home in Dar es Salaam.
Born in neighbouring Democratic Republic of Congo in 1947, he was known as "the Doctor" because he was seen as a defender of the people.
His songs often criticised Tanzania's elite and at the height of his popularity the government tried to expel him on immigration grounds.