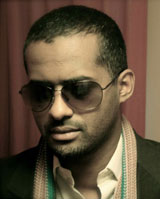 Nile is a Soul, Hip Hop and R&B singer/song writer and music producer based in the United Arab Emirates (UAE). Nile has brought fresh Hip Hop beats and the urban fusion of Neo-Soul and R&B to Dubai's local music scene. A diverse artist, Nile plays several musical instruments, such as the guitar, bass guitar and the keyboard. The acoustic guitar remains Nile's instrument of choice especially for live performances. Some of Nile's musical influences are artists such as Steve Wonder, Baby Face, Tupac, Mos Def, D'Angelo, and Maxwell.
Nile has written and produced over 40 songs. His single Lonely was played in Dubai's Radio One, as well as the singles Still in Love and Get With Me, which were also played on Sudan's 99.3 FM. He performed live at several music events in Dubai and Abu Dhabi. His music appeals to diverse groups of people of all ages.
A sexy, cool sound from Sudanese recording artist, Nile. Based in the United Arab Emirates, Nile writes and produces music that is sultry, sweet, and romantic. His take on Bob Marley's "Turn Your Lights" is soulful and rich, and he breathes new life into this classic. His original song, Ok is one of those songs you can listen to over and over.
-- Azuka Nzegwu

Born Moawia Ahmed Khalid, Nile, took his stage name from the longest river in the world, which flows across his home country, Sudan. The artist was born in Wad Madani, a city that lies on the west bank of the Blue Nile, nearly 85 miles southeast of the capital Khartoum.
In junior high school, Mo'awia formed a Hip Hop group called D.O.S with a friend but the group quickly ended when he moved to Sudan. During his years in Sudan, Nile was the lead singer and guitar player in a band whose unique sound was a mixture of soul, jazz and African music. The band toured the country and played in different music festivals and events.
Nile embarked on a solo career with the support of his family and pursued his dreams with a whole-hearted dedication. Along his path to success he studied music and audio engineering at the SAE Institute in Dubai. He continues to write, sing and produce original soulful music for his growing fan base in the UAE and on online. In the future, after further establishing a local fan base, Nile aims to launch his music into the international arena.