Once in a while, a musician comes along, whose talent and connection is rhythmically intertwined and spiritually rooted that you are forced to stop and take notice. This artist is Bukola Elemide, better known as Aşa. It seems that at times, we have forgotten what music is, and should be. Aşa reminds us. She infuses Yoruba and English in an effortless manner to create captivating sound that nourishes the soul, and reminds us of the invigorating real Africa we all know. Listening to Aşa is a mind blowing experience. Her music draws you in, the artistry, and masterful lyrics clinches your soul. Aşa sound is organically intense, yet mellifluous. It is a representation of soulful music with purpose and message. Aşa is a rising musical treasure in a trove full of over-produced-hyped-and-soul-free-music. She brings Africa to us in real and simple terms to all of us. This is a much needed and welcome sound from this multi-talented, beautiful African woman. This is what makes Aşa the AfricaResource Musician of the Week. - Editors of AfricaResource.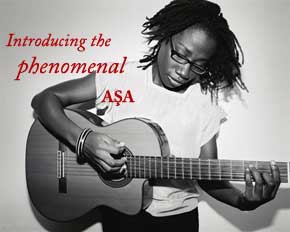 Africa, like a bubbling melting pot at the heart of today's most exciting musical movements… Africa, like a cry of rebellion ringing in your ears… Africa, like an enduring mark on all the television screens of the world…Africa, like…
Asa was born in Paris. Her early life in the City of Light left the little girl with only the vaguest of (happy) memories, since she was no more than two years old when her family returned to live in Nigeria. Paris was just one stage in the life of her courageous and hard-working parents. But her fate was tied up with the city: it was to Paris that Asa returned twenty years later and where her life as an artist took wing.

Asa grew up in Lagos, a city teeming with people and buzzing with energy but also home to a deep-rooted spirituality. Islam thrives shoulder to shoulder with Christianity in an atmosphere of tolerance, the young imitate America, and the turbulent city moves endlessly in an infernal and yet harmonious ballet of love and hate, laughter and violence, poverty and wealth.

"Lagos is the New York of Nigeria. If you want to get anywhere in music, that's where you'll find the best opportunities, as well as the worst pitfalls."

Asa was the only girl in the family and had to share her parents, not often present, with three brothers. At a tender age she began to look after the house during her father and mother's frequent absences. That is when Asa started to sing. The desire to sing came to her and didn't go away, carving out a permanent place in her soul. So Asa sang her heart out. She preferred singing to talking, improvising endlessly — until her mother made her stop ! Over the years her father had built up a fine collection of records featuring soul classics and Nigerian music.

The little girl grew up to the sounds of artists including Marvin Gaye, Fela Kuti, Bob Marley, Aretha Franklin, Sunny Ade, Ebenezer Obey and Lagbaja and went on to draw inspiration from them. Asa was a lonely child. The family, her brothers, Africa….and yet : she didn't fit into the usual clichés and was often sad, feeling out of place in childhood, even more so in the world of adolescence. She was different, and music became an escape route as well as a daydream. Asa would sometimes go to the park with her bothers to sing and dance, but more often took refuge in an imaginary universe that was her's alone. Decked out in a wig borrowed from the maternal treasure chest, a tube of cream serving as her mike, revelling in the freedom of no one watching her, she sang Michael Jackson and Bob Marley hits and greeted an imaginary crowd.

"I was a tomboy and when I was a teenager I became very shy because people made fun of me…in my own way, I was already attracting attention ! I got in the habit of never doing anything like everyone else. People didn't understand my low-pitched deep voice, the choirs didn't want anything to do with me. I had to get to church first if I was to have any chance of getting near the mike !"

Asa fought back. Against rejection, against the ups and downs of a life where, to achieve what people call happiness, she had to sacrifice everything. She was twelve when her mother sent her to one of the best schools in the country. But educational excellence had a bitter taste : five years of studies and hardship. When she came home, she discovered Erika Badu, D'Angelo, Rafaël Saadiq, Lauryn Hill, Femi Kuti and Angélique Kidjo, in whose footprints she dreamt of following. At 18, Asa was very familiar with frustration. The university was on strike, the choirs were snubbing her. Nevertheless, she managed to get her voice heard on a few radio talent shows and her first applause brought her boundless pleasure. She then signed up, in secret, for the Peter King's School of Music and learnt to play the guitar in 6 months.

Music and independence: Asa was insatiable in her desire to live life to the fullest, to meet people, to be immersed in music.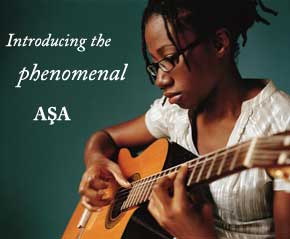 Asa, in her own opinion, is not a commercial product and not a sex kitten. But she is dazzlingly talented and gifted with a will of iron. She began to feel the wind of success blowing in her direction. A wind strong enough to sweep her away, but that would be forgetting that Asa does, after all, mean little falcon, a nickname acquired following a running away incident in childhood. She was offered contracts, concerts and money, but Asa was determined to make her music just the way she wanted. In 2004 she met her manager, Janet, who introduced her to Cobhams Emmanuel Asuquo, who in turn became her musical partner. And enabled Asa, the free spirit, to find her bearings: songs in English and Yoruba, music falling somewhere between pop and soul, inspired by her musical heritage — with particular care paid to the melodies — and reflecting the feeling she puts into it. Her texts talk about her country, the things in life, the things in her life, all delivered with feigned naivety and real irony.

"I like writing or thinking about my texts on the bus, or the molué, as we call it. 49 seats, 99 passengers standing up, as Fela described it. Everyone's squashed up together and mini-dramas break out all the time. And, at the end of the day, we still manage to laugh, that's where our strength lies …"

It was at this stage of her life that Asa finally returned to Paris. This was her chance to test out her talent on the French musical scene, playing with artists such as the Nubians, Manu Dibango, Doctor L and Tony Allen. In the meantime, back in Nigeria, her first single, Eyé Adaba, then Jailer, were beginning to get airtime. MTV chose her as the ambassador for South Africa, her popularity was growing and, when she went back, she opened for Akon, John Legend, Beyoncé and Snoop Dogg amongst others.

Asa talks to the people.

"I want my music to touch people. As an African, I want to give hope back to my people, but also to speak in their name. I want to show the world that something beautiful and positive can come out of the black continent and inspire young people all over the world."

Asa soon signed to the Naïve label. Partnered by Cobhams, and with the new involvement of Christophe Dupouy, she produced a magnificent eponymous album : the music's grace reflects its tempo, humour is never far from emotion, the melodies are unstoppable, the young singer's voice and energy testify to her enormous talent. The flautist Magic Malik is also featured, shedding his light on the eleven tracks, where the almost magical simplicity of the way the melodies get under your skin should not hide the richness of the arrangements : elegant strings, perfectly placed drums and percussion, guitar — her favourite instrument — along with the Hammond organ playing the field between funk and soul. R&b rubs up against pop, with reggae also making an appearance on Fire On The Mountain, the first track released from the album, an impertinent and barely-disguised metaphor for an ignorant and indifferent world.

Anyone who refuses to pay attention to the sparks will have no choice but to run when the fire breaks out. The fire, it's the conflicts we neglect because there is no oil at stake, but it's also the paedophiles, domestic violence and poverty on your doorstep, and so on. Asa expresses her bittersweet point of view on the realities that move her in different forms, from daydream to nose-thumbing to SOS. Her aim is, of course, to transmit positive values, but also to put words to the things that hurt : Jailer, another highlight of the album, reinterprets the old adage "you reap what you sow". This emblematic song with its irresistible refrain opens the album by denouncing modern slavery in all its forms.

Asa combines these committed pieces with messages of hope : Eye Adaba (dove in Yoruba) where her voice takes on a fragile air to echo the acoustic guitar, 360, Peace, No One Knows…

So Beautiful, a vibrant homage to her mother, Subway and Bi'Banke which take an original and insightful approach to love, full of strength and sensitivity. Sensuality intertwines with spirituality, rebellion with wisdom, on an inspired and optimistic first album.

Highly personal and totally universal, Asa's music will undoubtedly cross all frontiers, not just geographical, but also those of the heart and soul.

Africa, like the world's pulse…
Africa, like a troublemaker…
Africa, like a cry of hope ringing in your ears…

Africa, like Asa.
Gallery