The incredible James Brown rises from Augusta to international superstar and innovative beat maker.By this time, Brown had become the de facto leader of the group, now called the Famous Flames. Guided by Universal Attractions director Ben Bart, Brown created the James Brown Revue, complete with opening acts, his own emcee, and a stage band - the James Brown Band. The show was precisely choreographed, with Brown pumping his hips, twisting on one foot, and doing splits as the troupe executed their own intricate steps.
The Iconic Legacy of James Brown
I'm Black and I'm Proud. -- James Brown, Grandfather of Soul and Inventor of Funk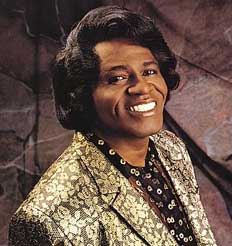 "Soul Brother Number One," James Brown was perhaps the best known and clearly the most successful black artist of the '60s and early '70s; his polyrhythmic funk vamps virtually reshaped dance music. With some 800 songs in his repertoire, the astonishingly prolific James Brown has influenced a wide range of contemporary artists from every genre - rock, soul, jazz, R&B, and hip-hop. And his adamant refusal to conform to anyone's vision other than his own bolstered his icon status.

Brown was born into poverty in the rural South around the time of the Depression (some records give his birth date as 1928; he claims it is 1933). As a child, he picked cotton, shined shoes, danced for pennies in the streets of Augusta, Georgia, and stole. Convicted of armed robbery at age 16, he spent three years in a juvenile detention institution. While incarcerated, Brown made the acquaintance of Bobby Byrd, who performed with his family gospel group at the institution. Byrd's family eventually helped obtain Brown's release by taking the youngster in and getting him a job. Brown tried semi-professional sports, first as a boxer, then as a baseball pitcher, but a leg injury ruined his chances of going pro. In the meantime, Byrd and Brown had put together a gospel group, which performed under a succession of different names at the Mount Zion Baptist Church, in Toccoa, Georgia, and at auditoriums in the area. Byrd and Brown sang duets, with three or four other members singing background vocals and harmonies. After seeing a rock & roll show featuring Hank Ballard and the Midnighters, Fats Domino, and others, Brown and Byrd left gospel music behind, transforming the group (Johnny Terry, Sylvester Keels, and Floyd Scott) into the Flames. Each Flame sang, danced, and played an instrument or two - Brown's were piano and drums. Byrd also played keyboards and shared vocals; he would remain Brown's sideman off and on during the next three-plus decades.

From a base in Macon, Georgia, the Flames had been touring the South for two years when Ralph Bass, head of Federal Records, signed them in 1956. Their first single, "Please, Please, Please," a big hit in Georgia and adjacent states, eventually sold a million copies. Subsequent releases in the same gospel-influenced yet distinctly rougher R&B style made Brown a regional star until "Try Me" became a national hit in 1958, charting #1 in R&B, #48 in pop.
By this time, Brown had become the de facto leader of the group, now called the Famous Flames. Guided by Universal Attractions director Ben Bart, Brown created the James Brown Revue, complete with opening acts, his own emcee, and a stage band - the James Brown Band. The show was precisely choreographed, with Brown pumping his hips, twisting on one foot, and doing splits as the troupe executed their own intricate steps. Night after night, he would feign collapse and be helped from the stage, only to stop, throw off the cape, and start all over again. Despite its predictability, the gimmick never lost its power to bring fans to their feet. Sweating off a purported seven pounds a night, and breaking box-office records in every major black venue in America, Brown earned the nickname "Mr. Dynamite" and the title "The Hardest Working Man in Show Business."

As Brown's band became one of the tightest in the field, Brown wanted to showcase them on his recordings. Federal, however, refused to let him use them in the studio, so he arranged for the band to record for another company as Nat Kendrick and the Swans. The resulting instrumental hit, "Mashed Potatoes," persuaded Federal's parent company, King, to take over Brown's contract and to sign up the James Brown Band both for Brown's sessions and as a separate act. From then on, Brown concentrated on pared-down, jump-and-shout dance music ("Think," "Night Train"). If a new song made the concert crowd dance, he would record it that night, often in one take.

Simultaneously, Brown was sending such raw, emotive R&B ballads as "Bewildered" (#8 R&B, #40 pop, 1961), "I Don't Mind" (#4 R&B, #47 pop, 1961), and "Lost Someone" (#2 R&B, #48 pop, 1961) up the charts. Brown's Live at the Apollo, recorded in Harlem in 1962 and patterned after Ray Charles' live In Person, sold a million copies, unprecedented for a black music album. In 1963, frustrated by King's failure to reach into the white market, Brown and Bart formed Fair Deal Productions. "Out of Sight," which Fair Deal released through Smash Records, hit #1 R&B, #24 pop.

Brown's revised contract with King in 1965 gave him complete artistic control. He revamped his band under the leadership of Nat Jones, and with his "Papa's Got a Brand New Bag," became a world-class force in popular music. Disposing of the conventional verse and chorus structure, eliminating even chord progressions, he distilled his sound to its essence: rhythm and, more specifically, "the 1." "Brand New Bag" topped the R&B chart, as did "I Got You (I Feel Good)" and "It's a Man's, Man's, Man's World." After Alfred "Pee Wee" Ellis replaced Jones as bandleader, Brown continued to score with "Cold Sweat," "I Got the Feelin'," "Say It Loud, I'm Black and I'm Proud," "Give It Up or Turn It A-Loose," and "Mother Popcorn" - which were all Top 20 (many of them Top 10) pop hits. Concurrently, he recorded instrumental albums (a total of 11 between 1961 and 1971) that never attained great commercial success but, featuring his organ and piano work, continued his rhythmic explorations (tracks from the best of these can be found on the 1993 anthology, Soul Pride).

The late '60s found James Brown a cultural hero, "Soul Brother Number One." As a black man of wealth, independence, and influence, he was a symbol of self-determination and triumph over racism. He took that responsibility seriously. Songs such as "Say It Loud," "Don't Be a Drop-Out," and "I Don't Want Nobody to Give Me Nothing (Open Up the Door I'll Get It Myself)" contained direct social messages. He sponsored programs for ghetto youth, spoke at high schools, invested in black businesses, performed for troops in Vietnam, and went on television after the April 4, 1968, assassination of Martin Luther King Jr. to plead for calm - a service for which he was ceremoniously thanked by Vice President Hubert Humphrey. In Boston, where he was scheduled to perform after rioting had broken out in several cities, city authorities feared violence. Brown's decision to televise the concert live locally was credited with helping to maintain the peace.

In late 1969 Brown faced the mutiny of his celebrated '60s band, which included saxophonist Maceo Parker and trombonist Fred Wesley. Brown enlisted hot young instrumentalists who, with his nurturing, continued to develop the sound that would be called funk. The youngbloods, who as the new band were dubbed the JBs, included brothers William "Bootsy" and Phelps "Catfish" Collins, whose distinctive bass and lead guitar playing, respectively, ushered in a new sound in soul music. The Collinses left after a year, later joining George Clinton's Parliament/Funkadelic organization [see entry]. Key '60s band members saxophonist St. Clair Pinckney and guitarist Jimmy Nolan, as well as Parker and Wesley, eventually returned, but the only consistent member was drummer John "Jabo" Starks, who originally joined in 1965.
The JBs were then led by Wesley, who with Brown began creating music that was even less formal than before; as the instrumental sections dug into funk grooves, Brown, dubbing himself "Minister of New New Super Heavy Funk," mixed sociopolitical messages and stream-of-consciousness phrasing with an undeniable beat.Brown had been managing himself since the death of his manager in the late '60s, and in 1971 he had signed with an international record company, Polydor, and sold it his entire back catalogue. His records - "Hot Pants" (#15, 1971), "Make It Funky" (#68, 1971), "Talking Loud and Saying Nothing" (#27, 1972), "Get on the Good Foot" (#18, 1972), "The Payback" (#26, 1974), "My Thang" (#29, 1974), and "Papa Don't Take No Mess" (#31, 1974) - continued to sell by the millions. Though R&B chart-toppers, they increasingly failed to crack the pop Top 20, on which softer rock, highly polished R&B ballads, and the first hints of disco dominated.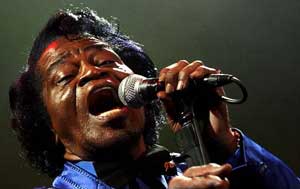 Around 1975 Brown's popularity began to wane. Because of financial difficulties, Brown was forced to sell his three black radio stations and his jet. The Internal Revenue Service claimed he owed $4.5 million in back taxes; a manager said Brown was part of a payola scandal; Brown's son Teddy had died in a car crash in 1973; and his second marriage ended. Young record buyers favored heirs like the Ohio Players, Kool and the Gang, and the Parliafunkadelicment Thang (which now employed Wesley and Parker).

He was welcomed to Africa and Japan as a star, and at home he continued to work. When disco peaked in the late '70s, he promoted himself as "The Original Disco Man," which he was. When "It's Too Funky in Here" reached #15, it was called a "comeback." With a cameo role in the 1980 movie The Blues Brothers, Brown introduced his soul-church preaching to a new generation. Returning to American stages that year, he drew much of his audience from the white punk-funk faction, for whom he was the essence of polyrhythmic minimalism. In 1980 he recorded "Rapp Payback (Where Iz Moses?)," an homage to his earlier singles "Brother Rapp" and "The Payback," which prefigured the enormous influence he would come to have on the incipient rap scene. The single, a British dance hit (#39 U.K., 1981), helped activate a James Brown resurgence there. Finding himself label-less in the early '80s, Brown recorded the album Bring It On! for his own Augusta Sound label

In 1984 Brown joined with rapper Afrika Bambaataa on "Unity," released on New York rap label Tommy Boy. By this time, his music had been claimed as the virtual basis for hip-hop beats; among others, Kool Moe Dee and Eric B. & Rakim scored hits by sampling Brown's rhythms, and his 1969 recording "Funky Drummer" (featuring drummer Clyde Stubblefield) began appearing in myriad versions on rap and pop records. The rappers also borrowed poses from Brown's persona - street-savvy, self-contained, defiant. With Brown inducted as a charter member into the Rock and Roll Hall of Fame in 1986, his revival was bolstered by "Living in America," the theme song to Rocky IV. Recorded at the request of director Sylvester Stallone, the single (#4, 1986), included on the album Gravity (with guest stars Alison Moyet and Steve Winwood), won a Grammy in 1987 for Best R&B Performance. In 1989 Brown (with writer Bruce Tucker) published an autobiography, James Brown: The Godfather of Soul.

In 1988, however, Brown's career ground to a halt. When his fourth wife, Adrienne, reported beatings, Brown was charged with assault with intent to murder and aggravated assault and battery. He surrendered to Aiken County, South Carolina, authorities near his 60-acre home in May and was released on bond. Then followed a year of bizarre legal troubles during which Adrienne, after her own arrest for alleged possession of PCP, first announced that she would file for legal separation, then relented and also withdrew the assault charges. Adrienne was arrested again for PCP possession and for arson. In September, as rumors circulated about his own PCP abuse and problems with the IRS, Brown allegedly threatened a group of people with a shotgun and then engaged in an interstate car chase with police that ended in his receiving a six-year sentence in a work-release program.

Paroled in 1991 after serving two years of his sentence - during which he was visited by the Reverend Al Sharpton, Jesse Jackson, and Republican stalwart Lee Atwater but ignored by the music industry and most of his old friends - Brown returned to work with a pay-per-view television concert and a new album. With Star Time, a four-CD retrospective (later chosen by ROLLING STONE as Reissue of the Year), the best of Brown's catalogue was freshly available, and the singer's stature was unassailable. The late '90s were difficult for Brown personally. His wife died in January 1996, two days after undergoing cosmetic surgery. Two years later, the singer- then in his 60s - was arrested for possession of drugs and firearms. He continued making music, however, releasing I'm Back in 1998, his first studio album in four years. On Christmas Day, 2006, James Brown passed away from congestive heart failure due to complications from pnuemoina.

Originally appeared in Rolling Stone Magazine and was first published in the The Rolling Stone Encyclopedia of Rock & Roll, 2001.