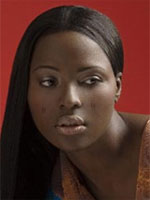 It was on a Valentine´s day that  Layori  discovered her love  –  her love for great performances.
She stood on the stage of the "Mayflower School"-auditorium in her domestic Nigeria to sing for three thousand of her fellow students and their relatives.
"It was just overwhelming. It felt totally natural for me to stand up there on stage und perform."She had trained her voice from her early childhood on, but she found out in that very moment that music would play the leading role in her life from now on.