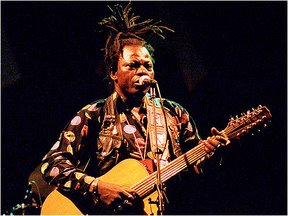 "The world is a prison," says Tanzanian superstar Remmy Ongala.
"There are people who are proud of their lives and others who are always suffering. Many musicians sing about love, about life. I try not to sing very much of love, [but] to try to illuminate the situation of the world." -- Remmy Ongala
One of Tanzania's most popular musicians, Remmy Ongala, has died at his home in Dar es Salaam.
Born in neighbouring Democratic Republic of Congo in 1947, he was known as "the Doctor" because he was seen as a defender of the people.
His songs often criticised Tanzania's elite and at the height of his popularity the government tried to expel him on immigration grounds.
But as his international fame grew, he was granted Tanzanian nationality.
His mix of Congolese "soukous" music and Swahili rhythms made him popular across East Africa.
He was also a regular performer at the Womad music festival in the UK until he fell ill 10 years ago and was paralysed.
Presidential Fan
Despite his ill-health he had toured in Tanzania until recently, mainly performing gospel music.
The BBC's Hassan Mhelela in Dar es Salaam says all radio stations in the country are playing his music and fans are phoning in with tributes.
By the time of his death, even President Jakaya Kikwete was a fan, recently visiting him in hospital.
Ongala often wrote about death - one of his most well-known tracks is Kifo, about the mercilessness of death, saying no matter how rich a person, bribery cannot postpone it.
The singer and guitarist moved to Tanzania in 1977 and joined the Orchestra Super Makassy, until he formed his own group Super Matimila.
He said his music was intended not only to make people dance but also to think.
"I am successful in Tanzania because I write songs about serious topics," his music label, Real World Records, quoted him as saying.
In 1990, he faced opposition to his song Mambo Kwa Socks (Things With Socks) - a reference to condoms - in which he made a plea to young men to practise safe sex.
Radio Tanzania has refused to play it, but live shows and black market tapes have ensured that his message has spread.
Our reporter says there is even a suburb of Dar es Salaam called Sinza Kwa Remmy, named after the musician when he moved to the area in the 1980s.
Biographical Sketch of Remmy Ongala
"The world is a prison," says Tanzanian superstar Remmy Ongala. "There are people who are proud of their lives and others who are always suffering. Many musicians sing about love, about life. I try not to sing very much of love, [but] to try to illuminate the situation of the world." -- Remmy Ongala
Ongala is a highly principled person. He is passionately against racism and social injustice, and the fire of engagement burns in every word he sings, and every note he plays. But while his music is charged with incendiary political commentary, Ongala also makes sure his songs also deliver danceable beats. Using this formula, he and his Orchestra Super Matimila have assembled one of the most impressive back-catalogues in Tanzanian music.
Remmy Ongala was born in the Congo in 1947. His home wasn't far from the Tanzanian border, and as a teenager--growing up on the music of emerging Congolese superstars like Franco--he also artists like the Hodi Boys by picking up Radio Tanzania. Congolese and Tanzanian music would prove his greatest influences as a songwriter and performer, although traces of Cuban and Kenyan benga are also apparent.
Ongala says he plays "heavy thinking music," or ubongo, which in Swahili means "brain." Ongala's music is meant to be appreciated on a physical and mental level. As he looked around his homeland of the Congo, he noticed much poverty and social inequality. Outraged by the despicable way the poor are treated, he used song as a way of fighting back, and after long days of tedious and physically strenuous labor, Ongala would perform his music with ad hoc bands in nightclubs and hotels in the Congo, (then Zaire), and later, Uganda. Songs like "Ndumila Kuwili" ("Don't Speak with Two Mouths") and "Mnyonge Hana Haki" ("The Poor Have No Rights") reflected his working-class outlook. Despite a flourishing Congolese music scene, Remmy was unable to strike a universal chord with listeners across Africa, as his idols Franco and Joseph Kabasele had done so effortlessly.
It wasn't until he ventured to Tanzania at the age of thirty-one that Ongala began to get a musical career on track. An uncle living in the Tanzanian capital of Dar-es-Salaam invited Ongala to come play music with him in the band Orchestra Makassy. When Makassy went to Kenya, Ongala stayed behind and joined Orchestre Matimila, which he later renamed Super Matimila. Ongala's group gets big band textures from the horn section and from elaborate arrangements for three guitars. The sound swept the local Tanzanian music scene, which, because of the closing of the border in 1977, had become isolated and quite unlike anything else in Africa. By 1981, Ongala and Orchestra Super Matimila, and were playing up to five nights a week in various nightclubs in Dar-es-Salaam.
Because of the dearth of quality recording studios in the financially-strapped nation, most bands would simply record and release their live performances, and Orchestra Super Matimila was no exception. Soon, their songs were being played on Radio Tanzania and various Kenyan radio stations, and they helped to develop quite a following for the band. Unfortunately, due to rampant piracy in both nations, Ongala never received the money he deserved for his songs. In 1988, however, that would all change. Orchestra Super Matimila was invited to perform at the WOMAD tour, and the organizers of the shows noticed Ongala's unique musical vision. He and his band cut two albums for the Real World label, Songs for the Poor Man and Mambo in 1991. Some observers feel that the WOMAD experience disrupted Ongala's music, forcing him to slim down his lineup, shorten his shows and favor a more soukous-oriented approach. Since then, though, he has returned to form and released two more albums on the EMD label.
Ongala continues to record and perform in Tanzania--despite his international fame--and his songs are still as concerned with social injustice as ever. One song, urging men to use condoms--"Mambo Kwa Socks/Things with Socks"--appeared on the acclaimed AIDS awareness compilation Spirit of Africa, in 2001. When this song was first released, it proved too much for Radio Tanzania, which refused to play it. But live shows and black market tapes ensured that few urban Tanzanians missed the message. In a musical career approaching two decades, Remmy Ongala and Orchestra Super Matimila can still make social issues sound funky.

Matt Ozga (AfroPop) and BBC.