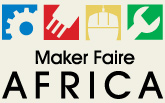 Call for Makers 2010
Maker Faire Africa 2009, in Ghana had a great cross section of Makers from a great range of disciplines, we hope to do the same and better in 2010, in Kenya.
If you are interested to show your work at Maker Faire Africa 2010 please contact us and tell us about your work and what you would like to show. The Faire will be held in Nairobi, Kenya on August the 5th to 7th.