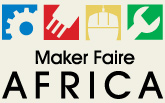 Call for Makers 2010
Maker Faire Africa 2009, in Ghana had a great cross section of Makers from a great range of disciplines, we hope to do the same and better in 2010, in Kenya.
If you are interested to show your work at Maker Faire Africa 2010 please contact us and tell us about your work and what you would like to show. The Faire will be held in Nairobi, Kenya on August the 5th to 7th.
Maker Faire Africa In Pictures
Submit your project Here!
What are we looking for:
There are no educational and or professional restrictions on participating as Maker at MFA.
What we ask is that your contraption, prototype or demo, be it something you made yourself or together with others. We are just as interested in the finished item as the process/path the Maker(s) took in getting there. Photographs/Video of the assembly/fashioning/fabrication process are welcome they will add very valuable context to what you/your and or co-makers will be presenting.
MFA seeks to spur collaboration between participants and across disciplines consequently we welcome makers whose interests do not fall neatly under pre-described categories, in fact we welcome the uncategorizable.
The underlying theme of our inaugural event is to celebrate ingenuity, innovation and invention within Africa.The key words here are to celebrate and have fun while absorbing,interacting and learning from the creativity of others.
Maker Faire's are playful and informal events where the value for participants is contingent on the extent to which they interact with the Makers and their displays and vice-versa.
We look forward to hearing from you please contact info at makerfaireafrica.com if you have further questions.
Key Points:
* Entry Close Date: June 1st, 2010. Space is limited, please submit your entry by the due date!
* Dates: August 5rd-7th, 2010
* Hours: Friday 10am – 8pm (6pm – 8pm evening program); Saturday 10am – 6pm.
We're also specifically looking for makers with projects in the following categories:
* Mechanical (low tech and high tech)
* Electronics/Software (appropriate tech and world applications)
* Design
* Metalwork / Woodwork
* Energy (solar / off the grid / harvesting etc)
* Textiles / Fashion
* Robotics
* Open hardware
* Botany
* Visual creators
* Mobile apps
* Uncategorisable

So submit your project if you think your work is suitable, tell us your plans and lets talk.


Maker Faire Africa 2009