Page 3 of 7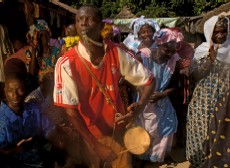 The long history is that spoken-word music made its way here on slave ships from West Africa centuries ago: Ethnomusicologists trace hip-hop's roots to the dance, drum, and song of West African griots, or storytellers, its pairing of word and music the manifestation of the painful journey of slaves who survived the middle passage. The ring shouts, field hollers, and spirituals of early slaves drew on common elements of African music, such as call and response and improvisation. "Speech-song has been part of black culture for a long, long time," says Samuel A. Floyd, director of the Center for Black Music Research at Columbia College in Chicago. The "dozens," "toasts," and "signifying" of black Americans verbal dueling, rhyming, self-deprecating tales, and stories of blacks outsmarting whites were defensive, empowering strategies.

You can point to jazz musicians such as Oscar Brown, Jr., Edgar "Eddie" Jefferson, and Louis Armstrong, and blues greats such as John Lee Hooker, and easily find the foreshadowing of rap music in the verbal play of their work. Black performers such as poet Nikki Giovanni and Gil Scott-Heron, a pianist and vocalist who put spoken political lyrics to music (most famously in "The Revolution Will Not Be Televised"), elevated spoken word to a new level.

But the artist whose work arguably laid the groundwork for rap as we know it was Amiri Baraka, a beat poet out of Allen Ginsberg's Greenwich Village scene. In the late 1950s and '60s, Baraka performed with shrieks, howls, cries, stomps, verse floating ahead of or behind the rhythm, sometimes in staccato syncopation. It was performance art, delivered in a dashiki and Afro, in step with the anger of a bold and sometimes frightening nationalistic black movement, and it inspired what might be considered the first rap group, the Last Poets.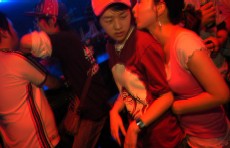 I was 13 when I first heard the Last Poets in 1970. They scared me. To black America, they were like the relatives you hoped wouldn't show up at your barbecue because the boss was there the old Aunt Clementine who would arrive, get drunk, and pull out her dentures. My parents refused to allow us to play their music in our house so my siblings waited until my parents went to work and played it anyway. They were the first musical group I heard to use the N-word on a record, with songs like "N------ Are Scared of Revolution." In a world where blacks were evolving from "Negroes" to "blacks," and the assassinations of civil rights leaders Malcolm X and Martin Luther King, Jr., still reverberated in the air like a shotgun blast, the Last Poets embodied black power. Their records consisted of percussion and spoken-word rhyme. They were wildly popular in my neighborhood. Their debut recording sold 400,000 records in three months, says Last Poet member Umar Bin Hassan. "No videos, no radio play, strictly word of mouth." The group's demise coincided with hip-hop's birth in the 1970s.

It's unlikely that the Last Poets ever dreamed the revolution they sang of would take the form it has. "We were about the movement," Abiodun Oyewole, a founder of the group, says. "A lot of today's rappers have talent. But a lot of them are driving the car in the wrong direction."