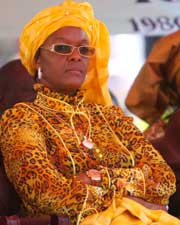 By Janet Otieno
Zimbabwean First Lady Grace Amai Mugabe presented herself as a role model worth emulating during Malawi's President Bingu wa Mutharika's recent wedding.
Ms Mugabe advised Malawi's new First Lady Callista Chimombo Mutharika to follow her heart and do what pleases her, irrespective of what people think. She also pledged to be there should her 'wise counsel' and experience be sought as she welcomed Callista to the league of African heads of state spouses.
This was not well received by some Malawians, going by certain remarks on Nyasa Times, the country's daily newspaper.
The readers argued that listening to Ms Mugabe would be tantamount to crumbling of a nation.
"Shame, to you Grace. Two thirds of Zimbabweans are languishing in abject poverty because of your mismanagement of the economy," screamed one of the comments.
Ms Mugabe has been on record for the wrong reasons, if press reports are anything to go by. Apart from doing what she does best – shopping abroad, assaulting a British journalist last year in Hong Kong was more puzzling for a person in her position. Scores of Zimbabweans also blame President Mugabe's blunders on her.
This brought to the limelight efficiency of such women tasked with bettering conditions for their nations' less privileged. Reports have it that they have since abandoned their roles of reaching out to the less privileged, unless it is for public relations purposes.
Symbols of Extravagance
Some African first ladies are slowly spinning into symbols of corrupt extravagance of their husbands' political reign. That is why it would be prudent for one to foresee further stench the position brings to political governance in various nations, according to Nigerian Muse blog.
A report on Feminist Africa, publication of African Gender Institute, states that the first lady phenomenon has created a dynamic political space which has been appropriated and used by the wives and friends of men in power for purposes of personal aggrandisement, rather than for furthering the interests of women.
And speaking of extravagant lifestyles, then Ms Mugabe would definitely lead the list of Imelda Marcos of this continent. Others follow closely.
Imelda, the wife of the late Philippines President Ferdinand Marcos, was known for her corrupt dealings and unquenchable thirst for expensive fashion and trips abroad.
She is often remembered for owning over 3,000 pairs of shoes.
World Tour
Swaziland's King Mswati III's wives have also not been left out of the international shopping extravaganzas. Five out of his13 wives and 40 attendants were reportedly on a 'world tour' that included stopovers in France, Italy, Taiwan and the US.
On one shopping occasion, they spent about $6 million from public coffers according to the Times of Swaziland, the country's daily.
In 2008, these trips by Swazi queens elicited so much outcry and ordinary Swazi women took to the streets to protest.
The late Stella Obasanjo too cannot go without mention in reference to profligacy during her husband Olusegun Obasanjo's reign in Nigeria.
Her extravagance came to the fore after Midwest Herald newspaper ran an article; Greedy Stella, accusing her of organising the sale of 207 government-owned properties to her relatives at reduced prices.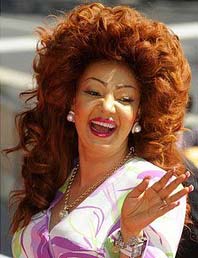 This attracted widespread criticism for her ostentatious displays of wealth and lavish lifestyle.
Wife of Cameroon President Chantal Biya too wasted no time when she came to the scene in 1996 by getting her wardrobe set for the role of First Lady.
Being married to a president is so imperative and Ms Biya makes quite an impression with her extravagant hairstyles, exotic wardrobes and shopping trips with her entourage.
The list of such women in Africa's presidential quarters is endless and the few examples here illustrate a sharp contrast to the struggle of millions of Africans, who cannot afford basic commodities like food and proper healthcare, as the people on the throne waste public resources to fund their ostentatious lifestyles.
Since the first ladies play significant roles in shaping political processes in their countries, it would be prudent for them to put their acts in order as their roles demand.