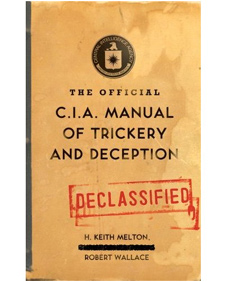 Voodoo – CIA Book Of Magic Spells Republished
A CIA manual instructing US agents on the use of paranormal powers, European-type voodoo, magic spells and tricks during the Cold War has gone on sale.
It was written in 1953 by magician/High Witch Doctor John Mulholland for a fee of $3,000 (£1,800) which was a considerable of money in that era.
Its lessons include how to cast spells, how to spike people's drinks with toxic substances, conjuring and vanishing, codes and incantations.
The CIA ordered copies destroyed in the 1970s, but one survived. It has now been republished as The Official CIA Manual of Trickery and Deception.
In the foreword, deputy CIA director John McLaughlin states clearly the centuries old axiom that "magic and espionage are kindred spirits". According to MCLaughlin:
"Just as the magician's methods must elude detection in front of a closely attentive audience, so an intelligence officer doing espionage work must elude close surveillance and pass messages and material without detection.
"Mulholland's writing on delivery of pills, potions and powders was just one example of research carried out back then in fields as diverse as brainwashing and paranormal psychology."
The guide was part of a larger CIA programme, called Project MK-Ultra, aimed at countering the Soviet mind-control techniques of the Cold War era.
Chapters of the book included titles such as "Surreptitious Removal of Objects," "Special Aspects of Deception for Women," "Surreptitious Removal of Objects by Women" and "Working as a Team."
Analysts however hazard that very important chapters of this book, a perfect example example of the use of para-normal science or negative voodoo by the CIA must have been edited out in this "newly" re-discovered version.
We suspect that this re-released book is but a watered-down sanitized example of the lengths the so-called "white" supremacy power structure of the western world would go at preserving its un-deserved economic and political privileges.
Mazi Omeife Jideofo
Rasta Livewire Reports
Sources:
http://news.bbc.co.uk/2/hi/americas/8380329.stm
http://www.amazon.com/Official-CIA-Manual-Trickery-Deception/dp/0061725897
http://www.nationalpost.com/scripts/story.html?id=2266833#ixzz0Y2UixGS7