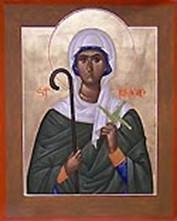 Commemorated on February 1
St. Brigid, "the Mary of the Gael," was born around 450 in Faughart and died 525, about two miles from Dundalk, in County Louth, Ireland. According to tradition, her father was a pagan named Dub-thach (meaning: the black man), and her mother was Brocessa, one of his slaves.
As a child, Brigid was known for her compassion for the poor. She would give away food, clothing, and even her father's possessions. …
St. Brigid received monastic tonsure at the hands of St. Mael of Ardagh. She established a monastery on land given to her by the King of Leinster. The land was called Cill Dara (Kildare), or "the church of the oak."
This was the beginning of women's cenobitic monasticism in Ireland.
There also used to be a Brigit, who was an old Celtic goddess of Ireland. She might have been the prototype of the christian Saint Brigit. And just like the christian Saint Brigit, Brigit the Celtic goddess was also a muur. She was often depicted as a black woman…
Brigit the Muurish Goddess of the Celts

See
http://www.antiochian.org/blog?page=92&%24Version=0&%24Path=%2F&%24Domain=.antiochian.org