Empress Irene

Irene was born to a noble Greek family of Athens, the Sarantapechos family. Although she was an orphan, her uncle, Constantine Sarantapechos, was a patrician and possibly strategos of the theme of Hellas. She was brought to Constantinople by Emperor Constantine V on November 1, 769, and was married to his son Leo IV on December 17. They had a son who was known as Constantine VI.
Icons of Empress Irene and the Holy Mother and the Saints

Irene became, on her husband's death in September 780, guardian of their 10-year-old son, Constantine VI, and co-emperor with him. Later in that year she crushed what seems to have been a plot by the Iconoclasts (opposers of the use of icons) to put Leo's half brother, Nicephorus, on the throne.
Irene favoured the restoration of the use of icons, which had been prohibited in 730.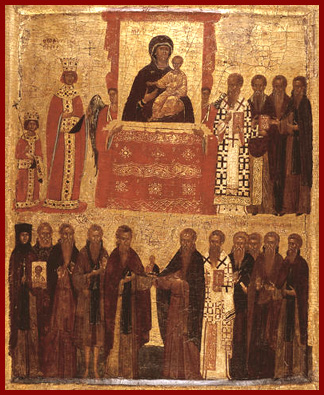 In 790 as a result of palace intrigues, Constantine VI was proclaimed sole ruler and his mother banished from court. In January 792, however, Irene was allowed to return to court and even to resume her position as co-ruler. By skillful planning with the bishops and courtiers she organized a conspiracy against Constantine, who was arrested and blinded at his mother's orders (797).
Irene then reigned alone as emperor (not empress) for five years. Irene's zeal in restoring icons and her patronage of monasteries ensured her a place among the saints of the Greek Orthodox Church. Her feast day is August 9.
Two Bishops venerate a sacred image. Theodore Psalter, British Library B.M. Add. 19.352

Emperor Leo III the isutarian

Sources:
http://www.ldysinger.com/CH_501_Intro/15_Mon_Mis/00a_start.htm
Encyclopedia Britannica: http://www.britannica.com/EBchecked/topic/293922/Irene
Wikipedia