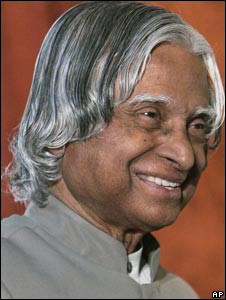 American Continental Airlines Apologies To India
America's Continental Airlines has apologised to former Indian president APJ Abdul Kalam for frisking him before he boarded a flight to the US.
The airline said in a statement that it had not intended to offend Mr Kalam or the sentiments of the people of India.
Members of India's parliament were outraged after it emerged that Mr Kalam had been frisked and made to remove his shoes at Delhi airport in April.
Protocol exempts former presidents and other dignitaries from such searches.
…………………………………
Civil Aviation Minister Praful Patel told parliament that airlines are given a list of people who are exempt from security checks at Indian airports.
"This act of frisking the former president… is absolutely unpardonable and beyond the scope of the laws of our country," Mr Patel said.
"We will look into the matter. If the former president has been insulted, we will take action."
According to reports, Mr Kalam, president from 2002 to 2007, was made to remove his shoes and empty out the contents of his pockets, and a hand-held metal detector was run over his body.
News of the incident – which took place in April as he boarded a Continental Airlines flight to the US – only emerged this week.
Story from BBC NEWS: http://news.bbc.co.uk/2/hi/south_asia/8162437.stm