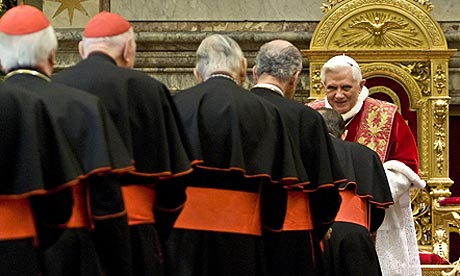 The Vatican fought attempts to link Pope Benedict XVI to child sex abuse in a counteroffensive on Saturday against widening paedophilia scandals.
"It is clearly evident that in the past few days there are some who have sought — with a dogged focus on Regensburg and Munich — elements to personally implicate the Holy Father in questions of abuse," spokesman Federico Lombardi said.
"It is clear that these efforts have failed," he said on Radio Vatican.
On Friday, the pope's former diocese of Munich confirmed a report that, as an archbishop in 1980, the pontiff approved housing for a priest who had been accused of forcing an 11-year-old boy to perform oral sex.
Six years later, the priest was given a suspended prison sentence for child sex offences. The archdiocese said he still works in Bavaria, with no known repeat violations.
The disclosure added to a growing scandal in Germany that had already come close to Pope Benedict's brother Georg Ratzinger, a former choirmaster.
The first revelations emerged in January when an elite Jesuit school in Berlin admitted systematic sexual abuse of pupils by two priests in the 1970s and 1980s.
Among other boarding schools since implicated is one attached to the Domspatzen ("Cathedral Sparrows"), Regensburg cathedral's thousand-year-old choir which was run for 30 years by the pope's older brother.
Ratzinger, 86, said on Tuesday that the alleged sexual abuse in the 1950s and 1960s — before his time — was "never discussed".
In an interview with German magazine Der Spiegel a former choirboy Thomas Mayer said he was raped by older boys at a time when Ratzinger ran the choir.
He also said Ratzinger had violent fits of outrage during rehearsals….
http://rawstory.com/news/afp/Vatican_fights_to_distance_Pope_fro_03132010.html