Spread the love
5

Shares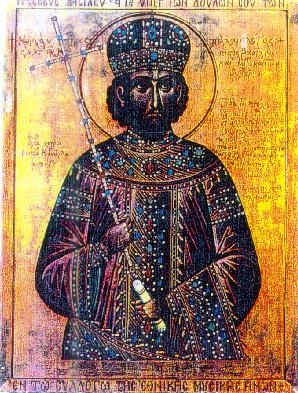 The last Emperor of the Roman Empire in the East also known as the Byzantine Empire.
The Turks murdered him.
He was martyred by the forces of Sultan Mehmet during the assault on The City on May 29, 1453. His feast is celebrated on May 29 (e.g., St. Herman Calendar 2000, p.38).
He is venerated among Orthodox and Byzantine Catholics alike, for his deep faith, his steadfastness to his people and to his duties as Emperor in the face of certain death at the hands of the Sultan's forces.
A lesser Christian and man not only could have, but would have escaped, abandoning the people to their own fate. However Emperor Constantine remained steafast, stood with the body-polity and died willingly for his faith and imperial legacy.
Emperor Constantine's heroic death and the shock of the fall of The City, the capital of Rome in the East Constantinople, combined with the fact that his place of burial remains a mystery to this day, led to several pious legends about the Emperor.
Many claimed that he never died, but was hidden by God. Some others renamed him the sleeping Emperor, secluded by God.
It was generally believed by many that he would one day return to drive out the invaders and restore the Faith and the Empire.
Oguejiofo Annu
See
Nichols, Donald, The Immortal Emperor, Cambridge University Press, 1992, pp. 66-69.
http://it.wikipedia.org/wiki/Costantino_XI_di_Bisanzio
Spread the love
5

Shares