Spread the love
2

Shares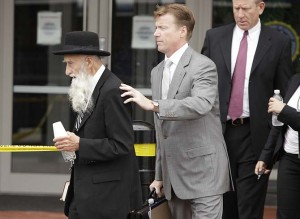 5 Prominent New York Rabbis Arrested For Corruption High Financial Crimes: World's Largest Jewish Enclave in Shock
DOJ Release: 'Bid Rig' Corruption Investigation
Rastalive wire is picking up information on the arrest of two of most prominent religious leaders in Brooklyn New York right inside their synagogues by the F.B.I. in a massive money laundering scheme
Two rabbis amongst others were charged last Thursday following a massive New Jersey corruption bust and the largest and richest Jewish community in the world is stunned.
Rabbi Mordechai Fisch, heads the Congregation Sheves Achim in Brooklyn, and Rabbi Saul Kassin, prominent leader of the Syrian Jewish Community is the chief rabbi at Congregation Shaare Zion in Flatbush, the flagship synagogue of the community.
Investigators said Rabbi Kassin was involved in bankruptcy fraud, trafficking in counterfeit goods, and other illegal money transactions all under the mask of a charitable tax-exempt organization connected to his synagogue. Member Joe Fallas said he can't believe the allegations against Rabbi Kassin.
This is one of the largest and most high-profile corruption probes in state history of New Jersey.
The mayors of Hoboken, Secaucus and Ridgefield, the Jersey City deputy mayor and council president, two state assemblymen, numerous other public officials and political figures and five rabbis from New York and New Jersey were among 44 suspects nabbed in a two-track federal investigation of public corruption and a high-volume, international money laundering conspiracy, Acting U.S. Attorney Ralph J. Marra, Jr., announced.
This developing story is still unfolding….
Rastalivewire will keep you posted.
Spread the love
2

Shares