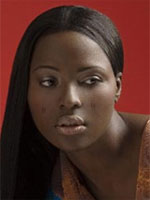 It was on a Valentine´s day that  Layori  discovered her love  –  her love for great performances.
She stood on the stage of the "Mayflower School"-auditorium in her domestic Nigeria to sing for three thousand of her fellow students and their relatives.
"It was just overwhelming. It felt totally natural for me to stand up there on stage und perform."She had trained her voice from her early childhood on, but she found out in that very moment that music would play the leading role in her life from now on.
DaDa is a single from Layori's debut album, Origin, which is sung in Yoruba. As a recording artist based in Nigeria, Layori have traveled and lived in different parts of the world. She is influenced by the culture and fashion she has encountered. Walking around sand dunes in a red-patterned and fitted cultural dress in the music video for Dada, she looked like an earthly treasure, emitting both class and opulence. Layori is a refreshing musician with great musical maturity and sensibility. She is part of the new wave of African women artists who are creatively landscaping the paths of musical nirvana. She is African Jazzy.
-- Azuka Nzegwu

With the first few bars of the blues-colored, folkloristic title "Dada", sung in her mother tongue Yoruba, Layori pulls the listener into a sounduniverse where  Afro, Pop, Soul and Jazz can communicate the easy way. What we hear is an airy,  almost completely acoustic, calm music, that is simple, catchy but multilayered – music that is never dominant but always electrifying. It is sung by a woman that loves transparency as much as mystery, a woman that shows a surprising maturity for her age, a woman that is obviously in balance with herself. With her sensuous alto voice the singer is aiming directly at the hearts and souls of those who listen to her.
In  Wally Warning  the singer and songwriter had an important and experienced partner on her side while creating her debut album Origin. He and Layori  agreed, that the title Origin contained the message that the music should remain as natural, pure and genuine as possible.
Two guitars, bass, percussion, background vocals, occasional horns and strings set the right frame for Layori's voice. She sings in three languages (besides Yoruba it´s English and Spanish). One can´t resist her, whether she´s intonating the mantra-like "What Is Love" or she´s playing with the many shades of her splendid organ.
It´s astounding how powerful and fragile she can sound at the same time. "Both comes from the challenges that you have to face when you travel the world constantly. The fragile has maybe to do with me being homesick, missing the protection and love of my family."
"In a certain way Origin is like coming home. In all the years that I spent in different countries in the world, my African soul was always present.
Never ever would I do something that is against my culture, my pride, my believes, my roots. With Origin I can now show my family: look, I´ve made something out of my life.
Photo by Oliver Spies.
Online: http://www.layori.com