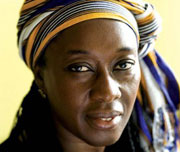 Yaba Badoe is a Ghanaian-British documentary filmmaker and writer.
A graduate of King's College Cambridge, she worked as a civil servant in Ghana before becoming a General Trainee with the BBC. She has taught in Spain and Jamaic, and was previously a Visiting Scholar at the Institute of African Studies at the University of Ghana. She has worked as a producer and director making documentaries for the main terrestrial channels in Britain and the University of Ghana in Accra.
Her short stories have been published in Critical Quarterly and in African Love Stories: an anthology edited by Ama Ata Aidoo. In 2009, her first novel, True Murder was published by Jonathan Cape. Her TV credits include: Black and White, a ground-breaking investigation into race and racism in Bristol, using hidden video cameras for BBC1; I Want Your Sex, for Channel 4 and a six-part series, VSO, for ITV. African Love Stories is now available in Swedish from Tranan publishers under the title Kärlek x 21.
The Witches of Gambaga - (Documentary Film)


Winner of Best Documentary at Black International Film Festival (2010)
2nd Prize of Best Documentary at FESPACO (2011)
The Witches of Gambaga is the extraordinary story of a community of women condemned to live as witches in Northern Ghana. Made over the course of 5 years, this disturbing expose is the product of a collaboration between members of the 100 strong community of 'witches' and women's movement activists determined to end abusive practises and improve women's lives in Africa. Painful experience and insight come together to create an intimate portrait of the lives of women ostracised by their communities. Told largely by the women themselves, their incredible stories and struggles are conveyed to a wide range of audiences by the director's narration.
Online: http://www.witchesofgambaga.com