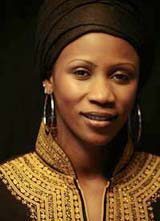 Sister Fa is the outstanding queen in the competitive male dominated world of Senegalese hip hop. She has been around for almost 10 years with her powerful flow, bewitching melodies and conscious female powered lyrics.

Sister Fa entered this world in the early 80s in Dakar, the vibrating capital of Senegal.

She took her first steps in music back in 2000 by getting acquainted with the local rap scene and recording her debut demo-tape. Nourished on the energy and creativity of West Africa's Hip Hop metropolis, she injected these into her own music with inimitable artistic expression. Her urbane vitality has its roots in the Casamance in Senegal's south. Rich musical and cultural traditions from her family's native country have significantly influenced her artistic output, lending it a uniquely personal note.




Milyamba, a track from her first album, Sarabah - Tales from the Flipside of Paradise.
Milyamba is about the hard life of women in Senegalese country side.

One of the most interesting female mc's repin' Senegal. Now based in Berlin, Sista Fa is a representation of a new age of strong African women musician speaking out about women's rights. Sarabah - Tales from the Flipside of Paradise is a very rich album encompassing lots of styles, sounds and languages (Wolof, Manding, Jola et Français). One can hear influences from hardcore rap, Senegalese pop and innovative reggae. Each song makes one want to dance, sing, shout and cry all at the same time. It has all the potential to inspire a whole generation.
-- Afrolution

After the sudden death of her mother, she dropped out of school to dedicate herself fully to music against her father's wishes. In 2005 her efforts were rewarded with her first Senegalese Hip Hop Award. Since then, Sister Fa has become a pillar of the Senegalese hip hop scene, the best-known female rapper in the country and a role model for many young women. Her lyrics examine social, political and personal subjects, but she uses her music above all for her fight against the tradition of female genital cutting.



My Name is Sister Fa

In January 2008 she organised the "Education sans Mutilation" tour to Senegal. Plans are being made for a continuation in 2010. Sister Fa works tirelessly for improvement in her native country, where she's a star. From her new base in the international sector of Berlin, equipped with her songs and winning temperament, Sister Fa is ready to spread the word to the world.

Sister Fa - Milyamba (Original Version in French and Wolof)

Refrain

Milyamba mbé wala woulo lé la anh saba milyamba sababé woulo léla saba milyamba
Milyamba mbe wala woulo lé la faro dala sababé woulo léla saba milyamba

Couplet

Bien sappé le matin tu parts à la course du temps
Tu ne prends pas tout ton temps à marcher comme au printemps
Tu ne donnes pas tellement d'importance à celui qui prétend
Que la vie en milieu rural est difficile
Car toi rak ndaw tu ne vis que des choses faciles
Pour faire tes courses tu as là  ta très jolie bagnole
Tu t'y promènes aisément comme un tout petit rossignol
Pendant que moi tot le matin je parts pour les rizieres
Bébé porté au dos je parcours des kilometres
Deguisée en haillons comme si je n'avais rien à mettre
Pour vivre heureuse c'est le travail que je dois admettre
J y dépense toute mon énergie sans aucun remord
Et pour prouver ma bravoure je me mets tout simplement à chantonner

Refrain

milyamba mbé wala woulo lé la anh saba milyamba sababé woulo lela saba milyamba
milyamba mbe wala woulo le la faro dala sababe woulo le la saba milyamba

Couplet

Avec le soleil ardent au beau milieu de la journée
Nous braves femmes sommes là dans les champs à tourner
Comme des esclaves dans l'une de ces plantations
Nous nous occupons de nos recoltes avec attention
Tout en evitant de les piétiner c'est de l'affection
Pendant que toi dans ta chambre bien climatisée
Tu fais ta siéste sans risque d´etre traumatisé
Pendant que j y pense ta chambre etant bien aromatisée
Dorts bien rak ndaw car tu n'as pas d soucis majeur
Et la vie que je mène c'est la loi de la nature
Mes pieds abimés malgré les sandales que je porte
Que je m'en debarasse des que j arrive devant ma porte
Un tout petit bol dégarni voila tout ce qu'on m'apporte
Et  le fruit de mon travail c'est ce que moi je leur apporte

Refain

Milyamba mbé wala woulo lé la anh saba milyamba sababé woulo lela saba milyamba
Milyamba mbe wala woulo le la faro dala sababe woulo le la saba milyamba

Couplet

Mes dures mains qui ne daignent pas le contact du pilon
Mon corps epuisé de ma tête jusqu'á mes talons
Pour certains accoutrements ca ne se met jamais les pantalons
Au crépuscule je profite des dernières lueurs pour preparer dans ma cuisine
Mes larmes qui coulent tout en offensant ma pudeur
Torse nu je travaille même si c'est un peu sauvage 
Tavailler dur pour nourrir mes enfants c'est mon ouvrage
Je dois le faire avant meme que la honte ne me ravage
Pour me reposer je me retire dans ma case mon matelas á meme le sol troué par les punaises Et puces qui s'acharnent sur mon corps et m'empechent quasiment de dormir

Refrain

Milyamba mbé wala woulo lé la anh saba milyamba sababé woulo lela saba milyamba
Milyamba mbe wala woulo le la faro dala sababe woulo le la saba milyamba

Sister Fa - Milyamba (English Version)

Translation by Afrolution.

Verse I

Well dressed this morning you go out and spend your time
You don't take your time to walk slowly as in spring
You do not give so much importance to the ones who say
That the life in the countryside is difficult
Because you little Sister live the easy life
To go shopping you have your nice car
You drive with it like a small nightingale
Meanwhile me all morning I go to the rice fields
With my child in my back I go kilometres
Dressed in rags as if I had nothing else to wear
To live happy I have to accept this work
For it I use all my energy without any sorrow
And to prove my braveness I start a simple croon

Verse II

With the burning sun right in the middle of the day
We brave women work there in fields
like slaves in one of these plantations
We take care of our harvest with attention
Avoiding to step on it, that is affection
While you in your well air-conditioned room
You make your siesta without risk to be traumatized
While I think of it your room is well flavoured
And your curtains protect you from the sun
Sleep well little Sister because you do not have any worries
The life which I live is the law of nature
My injured feet even tough wearing sandals
Which I take off as soon as I arrive in front of my door
A very small nearly empty bowl is all that they bring me
And the fruit of my job is what I bring in.

Verse III

My hard hands do not deny the contact with the mortar
My body is damaged from my head up to my heels
Certain dresses like trousers you never wear it
The last sunrays I use them to preparer with sweat in my kitchen
My running tears hurt my pride
I work with naked upper part of the body even if it is a bit wild
Work hard to nourish my children, that it is my work
I have to do it before shame devastates me
To have a rest I back out in my hut
My mat loopholed by thumbtacks and fleas till the soil
Which bite me all over my body and which prevent me to sleep.

Originally appeared on Sister Fa (www.sisterfa.com) and Afrolution (www.afrolution.com).