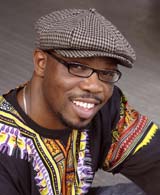 A native of Ijebu-Ode, Ogun State, Nigeria, KUKU grew up in Lagos, Nigeria listening to the assorted sounds of American soul, folk, and jazz music, as well as the sweet African rhythms of artists like King Sunny Ade, Fela Anikulapo Kuti, Mariam Makeba and Aruna Ishola. KUKU moved to the US in 1993. After years of odd jobs, college, serving in the US Army and working as a graphic designer, in 2002 he found Bar Nun, a weekly open mic in Washington, DC's U Street. It was there that he picked up a guitar for the first time, taught himself to play and began building a following singing in the U Street music/poetry open mic scene. As his reputation grew, he rapidly worked his way into the club, schools and café scene. Busking and touring while maintaining a full-time job, he released his 2005 home recording EP, "Love Sessions," which has sold more than 4,000 copies. KUKU recalls, "I remember calling off sick from work several times while I was on a bus or in an airport heading to the next gig." His captivating performances, featuring an effortless blend of his Yoruba tongue and a uniquely soulful acoustic rhythm coupled with his tireless off-stage work ethic, led to an invitation to perform at the Kennedy Center in 2004. This would not be the last time.
Ifé by Kuku from Unexpected Pleasures, 2006.
Video directed by Ayoola Daramola.
Ifé means love in Yoruba. A love song that blends Yoruba into a melodic high.
2006 saw KUKU release his first full-length recording, "Unexpected Pleasures," featuring the enchanting "Ife" and "Perfect Reality," which continue to be favorites among fans. Produced by friend Alexei Tsybine Jendayi, "Unexpected Pleasures," as KUKU would describe in an Atlanta radio interview, is an album that marries the sound of the likes of Bill Withers with King Sunny Ade with KUKU being the officiating priest. He labeled his minimalist acoustic guitar driven sound "The Afro-soul Acoustic Experience."
Between touring and by mid 2007, KUKU began recording and self-producing new materials with a new album in mind. Then on Friday, July 20th, 2007, KUKU met with Alexei Tsybine Jendayi. That evening – in only two hours – he recorded a suite of songs live with just an acoustic guitar. His most intimate album yet, "The Absence of Cool" was born right then and there. Engineered by Jendayi, this record captures the true essence of KUKU's emotion-filled performances, his connection with his audiences, some of his comedic banter, and those perfect imperfections a polished studio recording often lacks. With more songs in his native tongue than his previous recording, the album further bridges the gap between KUKU's western influence and his native roots.
Baba Lo Lope by Kuku from The Absence of Cool.
Hailed by a fan as "the African Music Medicine Man," this Yoruba, DC-based troubadour has been touring extensively since the release of his debut recording "Love Sessions." His enchanting sound has landed him on the stages of Chicago's Old Town School of Folk Music series-AfroFolk Live; New York's SOB's; Georgia Music Festival; Philadelphia's World Café; and the Temple Bar in Los Angeles to name a few. In October 2007, South African guitar maestro Mongezi Ntaka (Lucky Dube, Vusi Mahlasela) joined KUKU as he launched "The Absence of Cool" at his third Kennedy Center appearance. The album concept asks listeners to stop enslaving themselves to the concept of "cool," – with cool being the absence of emotion – and instead join him on a musical journey to the raw emotions deep in their souls.
Dark and Lovely by Kuku fromThe Absence of Cool.
In 2008 and 2009 KUKU continues to travel, perform and conduct music workshops. He often employs the accompaniment of his South African connection Mongezi Ntaka as his sound continues to dig deeper into  his African Heritage. In the later part of 2008 you could find KUKU sharing is music at numerous fundraisers to assist the campaign of the now President Obama. His latest project The Savory Papas- Love in a Time of Hope a Recession (www.savorypapas.com), is a French distributed album and collaboration with Irish/American Banjoist Joe "Stick Mulligan" Smith. Stay tunes for what to come next from the African Music Medicine Man, …The Cure.
Originally appeared on Kuku Live (www.kukulive.com).