Africa Resource proudly presents Philippe Dodard, an internationally acclaimed Haitian artist who lives and creates from his home in Haiti. As one of Caribbean's leading contemporary artist, his success demonstrates the visionary power of Haiti visual art that has continued to command international attention. The current exhibition by Africa House, Philippe Dodard: Spirit of the Caribbean provides an unprecedented opportunity to experience and purchase the recent works of one of Haiti's most celebrated artist Mr. Dodard in upstate New York. His international success demonstrates the visionary force of Haiti's art as well as the artistic fluency, perception and depth of this artist.
AfricaResource proudly presents one of Haiti's top contemporary artist, Philippe Dodard.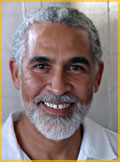 Born in Port-au-Prince, Haiti, in 1954, Philippe Dodard is a leading contemporary artist of the Caribbean and the African Diaspora. His artistic evolution was a series of steps, leading to major solo and international exhibitions including, Arte Americas (2008), the Venice Biennale (1999), Biennale of Latin American Drawings, Santo Domingo (1997), and the Biennale of Caribbean and Central America Art, Dominican Republic (1996). Dodard attained international prominence by rejecting the 'primitive', 'naïve' classification that dogged Haitian art. His paintings— Eternité de Mes Songes, Parole d'Ile (2005), Flûte Enchantée (1999), the Kosovo series, Femme aux Trois visages (1989), and Syncretism (1991)—are not any kind of works, states Michelle Frisch, Director of the Marassa Gallery in Port-au-Prince, Haiti. "They were like mnemonic devices . . . created at a moment of Philippe's coming to term with the forces that texture the Caribbean ethos". Dodard superbly blended Haitian, Caribbean and African iconographical elements to create deep complex forms. His recent choice of themes, Initiation, Consternation and Baron-Samedi reflects his transformation into "a human Poto-Mitan," the channeling pole at the center of the Vodun temple through which the spiritual forces descend to the oumphor (temple).
Artist Statement
The most important influence that I had was at the school of Photo-Mitan (1970) with masters Tiga (Jean Claude Garoute) and Patrick Villaire. Both of them developed the concept of contemporary Haitian art inspired from the popular tradition. While with Tiga and Patrick Villaire, I studied the principle of artistic rotation that put the student in contact with the different media as colors, clay, sound, inks, ceramics, poetry, movement in order to have a complete expression of the inner self, free from any preconceived definition of art.
I learned to develop a harmony between painting, sculpture, drawing, words, and sound to really express myself through the essense of love that I find in every human being. I find that every drop of nature that nourished my childhood, in every event in my life, good or bad, built my personality. I consider art to be the luminous breath of the human spirit. A glimmer of light that inspires love.
Selected Solo Exhibition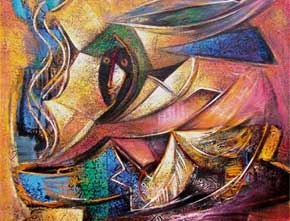 2008 Arte America 2008, Miami Beach convention center, Miami Floride.
2007 Me and the Miror, GMI Art Gallery, Miami Floride.
2006 The Idea of Modernity in Haitian Contemporary Art, Broward County Library, Florida.
2005 Origin, Wheelhorse Gallery, Greenwich, Connecticut.
2003 Vibrations des Iles, Galerie Soleil, Montréal Canada.
2003 Papier Sensible, Galerie Marassa Pétion-Ville Haïti.
2001 Bonjour D'Haïti, First annual Haitian Cultural Heritage Month, Miami, Florida.
2001 Voile Métallique, Painting & Sculptures, Galerie Marassa, Pétion-Ville, Haïti.
2001 A Dance of Celebration with John & James Biggers, Water work Visual Art Center, NC.
1999 Robert Ferst Center for the Art, Georgia Institute of Technology, Atlanta, Georgia.
1999 Words of Light, Indiana Perdue University, Indianapolis.
Selected Group Exhibitions
Magic Chair - Philip Dodard2007 Salon du Dessin Fondation Arawak, Musée d'Art Moderne, République Dominicaine
2007 Contrechamps avec Ronald Mevs, Marithou et Marie Helene Cauvin, Galerie Jérôme, Haïti
2006 La Tohue avec Galerie Jérôme, Montreal, Canada.
2004 "Kafou Marassa", Galerie Marassa, Haïti
2003 "Abbaye de Daoulas": Vaudou, Daoulas, France.
2000 "Invented Realities" Red Valley Museum, Texas, U.S.A
1999 48e Exposizione Internationale d'Arte, La biennale de Venezia Italie.
1999 "Una vision pictorica de la Hispanola", Museo de las Americas, San Juan, Puerto Rico.
Art and Exhibition
Artwork from Africa House recent exhibition, Philippe Dodard: Spirits of the Caribbean
Press Release for Philippe Dodard: Spirits of the Caribbean exhibition