Professor Paul Tiyambe Zeleza is a pre-eminent African scholar. He is one of the most important scholars in the field. In 2006, he received the Penn State College of the Liberal Arts Class of 1933 Distinction of the Humanities Award. Zeleza's work not only challenge the traditional Euroamerican framework, but he is among the scholars who are redefining a framework that is strongly Africa-centered.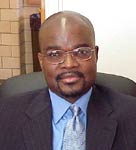 Dr. Paul Tiyambe Zeleza, Professor of African Studies and History, received his undergraduate degree at the University of Malawi (BA), his MA at the University of London, and his PhD at Dalhousie University. He wrote his dissertation on Kenyan Economics and Labor History. His prime areas of study are African economics history, gender history, intellectual history, contemporary struggles for human rights and democratization, and cultural social history 19th and 20th centuries.

Paul Zeleza has an unusual record of achievement in two areas: historical research and creative writing. Trained as an economic and social historian of colonial and post-colonial Africa, his Modern Economic History of Africa is a landmark study, and he has published prolifically on various topics relating to decolonization, gender, and intellectual life in Africa.
Over the last generation, African history has literally been rewritten by Africans, and Professor Zeleza has been an important part of that process. He is deeply committed to reaching out to African institutions, which are in need of help in assembling collections and other types of publications. Professor Zeleza's work and reputation are international in scope, and he has recently been offered a seasonal visiting Distinguished Professorship at the University of Cape Town. There is another dimension to Professor Zeleza's accomplishments. He has published several volumes of short stories, a novel, and literary criticism. His life as a creative writer makes him a more influential cultural figure than the typical historian. He possesses a wonderful capacity for global collaboration, and the level of initiative he consistently displays is truly unusual.

He is the author of about twenty books, scores of articles, essays, and reviews published in Africa, the Caribbean, Europe, and North America. His current book projects include Africa and Its Diasporas: Dispersals and Linkages that offers a global history of the dispersal of African peoples and the formation of African diasporas in the Americas, Europe, and Asia and their linkages with Africa, and Transnational and Transdisciplinary Studies: The Challenge of Africa, an edited collection that examines the development of Africanist knowledge production in all the major world regions, the major social science and humanities disciplines and interdisciplinary fields. He has been extensively involved in promoting African studies nationally and internationally and has worked with school teachers, business organizations, scholarly networks, and international organizations, and the media and frequently travels around the world to give lectures and attend conferences on African issues.

Prior to his current position at Penn State, Dr. Zeleza was a professor in History and African Studies and Director of the Center for African Studies at the University of Illinois (1995-2003), Professor of History and Principal of Eaton College at Trent University in Ontario, Canada (1990-95), and before that he taught at Kenyatta University (1984-89), University of the West Indies (1982-84), and the University of Malawi (1976-77).