Chinwe Chukwuogo-Roy is an accomplished Nigerian artist based in London. As a sought after artist, she was commissioned to paint Queen Elizabeth II, which has become part of the royal family collection. Indeed, not only is an artist to watch, she is also studied as part of the national curriculum in the United Kingdom.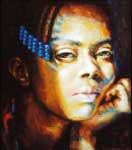 Regarded as one of Africa's foremost artists, Chinwe is renowned around the world for her portraiture, her work promoting Africa and her tireless promotion of Art education. She was honoured in 2003 with an Honorary Doctorate of Letters by the University of East Anglia and later that year represented the United Kingdom at the European Council Committee in Paris on Contemporary African Art and Artists.

She has won many awards and is featured prominently in the international media, both for her art and also for her charitable and educational work with young people. These considerable achievements have led her to be widely regarded as a positive role-model for many people worldwide. A biography is now studied by children in the UK as part of the National Curriculum.

Chinwe instigated and organised the 'Celebrate' Exhibition in December 2003 for the Commonwealth Heads of Government Meeting in Abuja and started a major educational programme to encourage art in Nigerian schools thus leading by example in her role as one of the original directors of NIDOE; she is always on the lookout for collaboration with museums and education institutes to further this project. She is a regular contributor to TV and radio; and her studies and portrait of Her Majesty Queen Elizabeth II are due to appear on the national postage stamps of nine countries during 2006 to commemorate her 80th birthday.