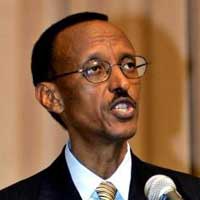 By Kezio-Musoke David
Rwandan President Paul Kagame has stressed the importance of African media telling their own story in an African context.
Addressing his monthly media briefing, the Rwandan leader warned the media against being "mentored by Western minds" while covering Africa.
During the Tuesday briefing at State House in Kigali, President Kagame finally broke his studied silence regarding his electoral intentions when he announced that he would stand for a second term in the August election.
Already, his ruling Rwandan Patriotic Front (RPF) has carried out primary polls showing overwhelming grassroots support for his leadership.
RPF is set to hold a delegates' conference next weekend to review the results from the primaries, which President Kagame won with a huge majority.
President Kagame, who is also the party's chairman, won the presidency in 2003 after securing 95 per cent of the vote. However, he had been in de facto control since 1990 as minister for Defence ever since his Tutsi rebel force invaded from Uganda and put an end to the 1994 genocide.
Private Candidates
"RPF is ready to enter into the election race and is ready to face anybody. The constitution even accepts private candidates. I think it is healthy," he said, promising a free and fair election.
There has been grumbling by some opposition candidates about official intimidation, charges which the government denies.
President Kagame commended outlets like the Nation Media Group (publishers of Africa Review) that sought to have Africans tell their own story.
Citing the debate on whether the International Criminal Court (ICC) represented the interests of African state or international justice, he warned African media outlets against playing to the tune of others in their coverage.
Said the President: "On ICC, one person told me that since there are judges from Africa on this court, it probably is representing the interests of all including Africa. I told this person, being African, is not about the colour of the skin. It is how one acts and how they perceive and how they define these things."
Form of Imperialism
"You can have somebody with a dark skin whose representation of Africa is negative," he added.
Returning to a pet theme, President Kagame wondered why Africans should be defined by others and warned Africa's media to beware of others using Africans to push another agenda.
The Rwandan leader has been previously critical of the ICC, dismissing it as a new form of imperialism created by the West to control the world's poorest countries.
He has also in the past been an outspoken critic of the UN for its inaction during the 1994 genocide.
Other issues that President Kagame has commented on with his usual critical candour include the West's policy on aid to Africa, which he blamed for creating dependence rather that promoting true development.
In contrast, he has repeatedly praised China, saying in a 2009 interview that "the Chinese bring what Africa needs: investment and money for governments and companies".